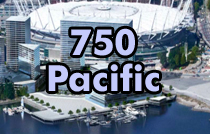 750 Pacific Boulevard - Proposed
,
Vancouver
, BC,
Levels:

0

Suites:

0

Status:

N/A

Built:

N/A


Map:

Concierge:

N/A

On Site Manager:

N/A

Type:

Under Construction


Bldg #:

011
750 Pacific News Articles
PRINT VIEW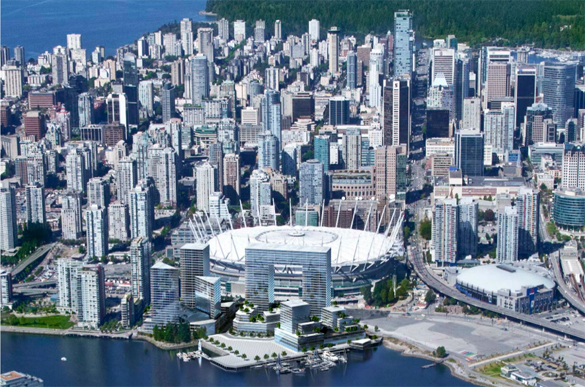 BUILDING WEBSITE 750 Pacific Boulevard, Vancouver, BC, Yaletown Neighborhood. A mixed use development proposed for the old Plaza of Nations site. This website contains: current building MLS listings & MLS sale info, building floor plans & strata plans, pictures of lobby & common area, developer, strata & concierge contact info, interactive 3D & Google location Maps link
www.6717000.com/maps
with downtown intersection virtual tours, downtown listing assignment lists of buildings under construction & aerial/satellite pictures of this building. For more info, click the side bar of this page or use the search feature in the top right hand corner of any page. Building map location; Building #011-Map 3, East Coal Harbour, Gastown, Downtown & Citygate Area..
Strata Company:

N/A

Concierge:

N/A

On Site Manager:

N/A

Developer:

N/A

Architect:

James K.M. Cheng Architects 604-873-4333
Google Map
Bing Map
Google Street View
View Larger Map
The Plaza of Nations is synonymous with the history and memories of Expo 86. However, the current site uses are no longer viable, overall it is currently underutilized and dysfunctional.

The proposed development is primarily residential, commercial, community facilies, marine use and public open space. The site density is approximately 3.9 FSR. The public support the higher density in recognition of the high level of community amenities as well as the sustainability features and meeting the LEED Gold standard.

Click Here For Rezoning Application.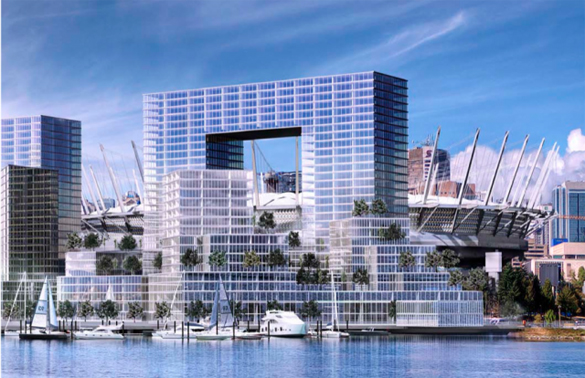 The most daring feature of the proposal is the tall Skybridge building (this will be the second one if built, the first one is known as "Central" and is located on Main, near 1st). It's great that the buildings do offer some sort of break from the norm for the area. The structure does cover up BC Place Stadium and it's fancy new roof, which is really unfortunate. Being so close to the stadium, I can't see these being marketed as high end units.
This project will also require the removal of the vastly underused Plaza of Nations building, Edgewater Casino and the nearby two night clubs.
From City of Vancouver Proposal Page, the following major public benefits include, among others, the following:
Community Centre: the heart of the neighbourhood amenity facilities is the Community Centre which includes, among other things; day care centre for 69 children; community rooms; publically accessible ice hockey/skating rink that will be used by the community and as a training facility for the Canucks; and a sports science centre. In addition, all operating costs will be absorbed and indemnified by the applicant
False Creek Seaside Walkway and Bike Route: completion of the north side False Creek seaside walkway and bike route between Coopers Park Neigh- bourhood and the foot of the Georgia Street axis will be achieved. This adds 363m (1,190 ft) of finished seaside walkway and bike route to False Creek.
Civic Plaza: a major public outdoor event space is proposed on the water- front at the southerly apex of the site. This flexible space of approximately 4,500m (48,500 sf) will accommodate a wide range of audiences ranging from small gatherings up to 4,000 people. The event calendar will primarily be focused between spring and fall. It has the potential of accommodating a variety of neighbourly activities such as music, art shows, theatre presen- tations, and neighbourhood gatherings. The Civic Plaza replaces the original event space in the Plaza of Nations. This location gives uninterrupted south- erly views to the water and maximizes sun access.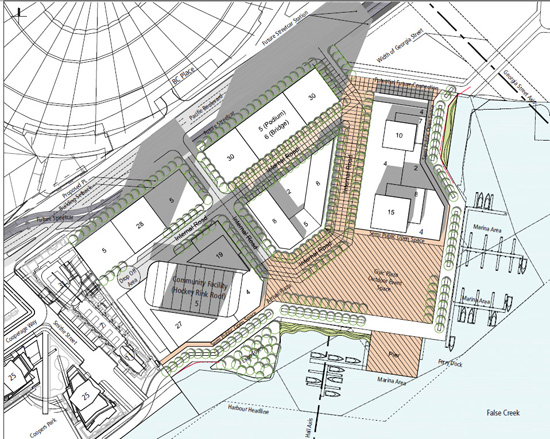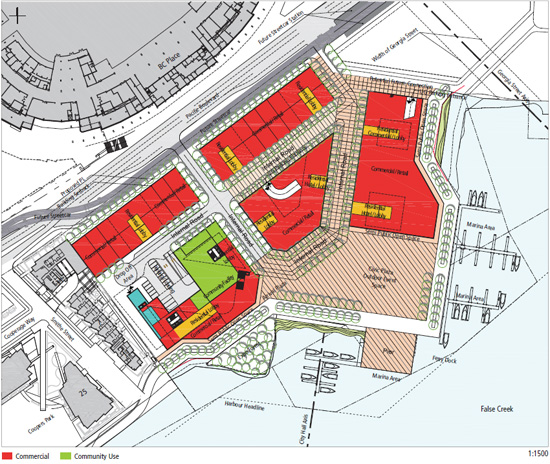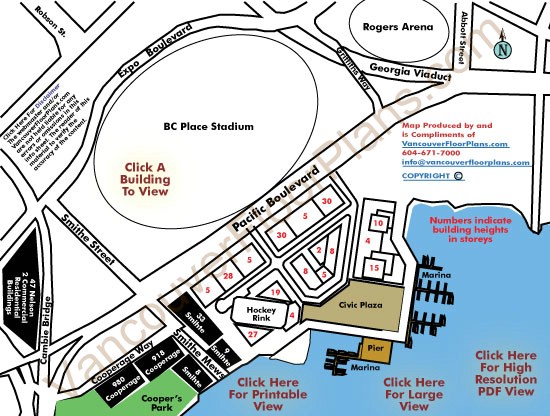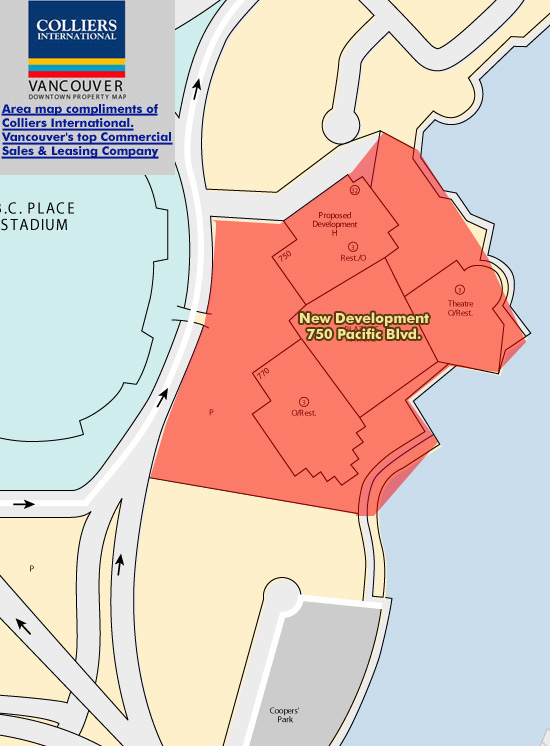 1) Click Here For Printable Version Of Above Map
2) Click here for Colliers full downtown area map in PDF format (845 KB)

Rezoning Application Billboard


Rezoning Application Billboard


Parking Lot Behind Cascade Casino
Site of Future Development


Parking Lot Behind Cascade Casino
Site of Future Development


Parking Lot Behind Cascade Casino
Site of Future Development


Parking Lot Behind Cascade Casino
Site of Future Development


Parking Lot Behind Cascade Casino
Site of Future Development


Parking Lot Behind Cascade Casino
Site of Future Development

The project is a rather large one and at the moment it is mere proposal. However, if this was to go through as proposed the following 22 elements will be part of the project scope.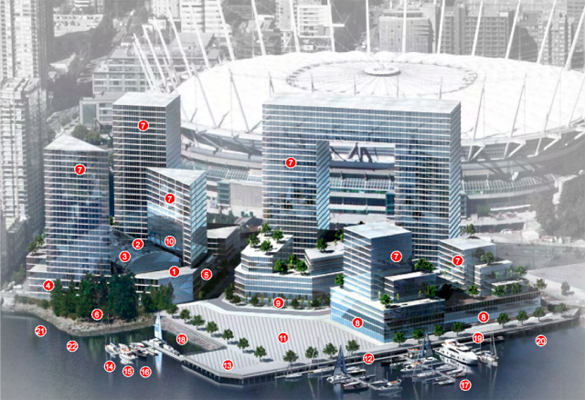 Community Centre
Daycare
Ice rink
Canucks facilities
Sports medicine
Expo forest
1,500 to 2,000 residential units
Retail at grade including restaurants and cafes
Commercial
Hotel
Civic Plaza
False Creek Seaside Walkway and Bike Route
Public open space deck
Public Ferry
Transient moorage
Non-motorized moorage
Commercial moorage
Shoreline Features
Naturalized foreshore in westerly bay
Extension of length of seaside walk on piles
Maintain easterly foreshore with seawalk on bridge
Sub-tidal reef
Subtidal and intertidal enhancements along shoreline