Lowell Conn
Sun
Pioneer mechless effort: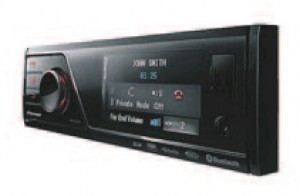 The new MVH-P8200BT multimedia AV receiver is the first mechless receiver we've seen from Pioneer Electronics. For readers not yet acclimatized to the brave new world sans optical lenses, mechless receivers read neither CDs nor DVDs, opting instead to transmit music and video that is found on portable flash drives and other solid-state media. In this case, it has the requisite USB slot and a built-in SD Memory Card. This model features built-in Bluetooth capability, but those choosing to save about $75 can go for a model without the BT. It features a three-inch TFT display, which is more than adequate for watching video files stored on portable media, and it offers advanced control for iPods, including album art display, search by alphabet and iTunes tagging. And it arrives at a price so good, it gives the MVHP8200BT a spectacular leg up, as it is one of the top single-DIN stereo values of 2010, all features considered. $370;
visit pioneerelectronics.ca.
New use for old cassette players:
Hot on the heels of the recently released USB Cassette MP3 Player II comes another product that will bring that old car stereo into the new millennium. Monster's iCarPlay 800 is a cassette adapter designed to help users play music from their modern MP3 player via the car cassette player. It arrives looking like a standard tape but features a cord that plugs into iPods, iPhones and other portable music devices. Just load the tape into the cassette player and all of your favourite MP3 digital files can be played through the old analog unit.
True to Monster form, the device features all sorts of build features that claim to translate into better sound, including dual-balanced conductors purporting to deliver more natural audio and 24-karat gold contacts for maximum signal transfer and corrosion resistance. The cord can also be conveniently stored within the unit. It's also relatively well priced, which is an extremely rare thing for a Monstermanufactured product. $25; visit monstercable.com.
© Copyright (c) The Vancouver Sun