33 Smithe
,
Vancouver
, BC,
V6B 0B5
Levels:

35

Suites:

221

Status:

Completed Oct 30th 2008

Built:

2008


Map:

Concierge:

604-682-3918

On Site Manager:

N/A

Type:

Freehold


Bldg #:

142
Coopers Lookout News Articles
PRINT VIEW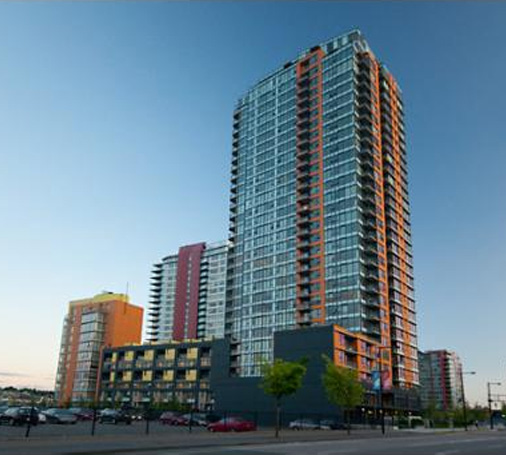 BUILDING WEBSITE Coopers Lookout at 33 Smithe Street, Vancouver, BC, V6B 0B5, Yaletown Neighborhood, 30 levels, 221 suites, this building will be completed Oct 2008. Smythe Mews and all building in Coopers Lookout must get permission from Strata to hold open houses. This website contains: current building MLS listings & MLS sale info, building floor plans & strata plans, pictures of lobby & common area, developer, strata & concierge contact info, interactive 3D & Google location Maps link
www.6717000.com/maps
with downtown intersection virtual tours, downtown listing assignment lists of buildings under construction & aerial/satellite pictures of this building. For more info, click the side bar of this page or use the search feature in the top right hand corner of any page. Building map location; Building #142-Map 3, East Coal Harbour, Gastown, Downtown & Citygate Area..
Strata Company:

Rancho Management (604-684-4508)

Concierge:

604-682-3918

On Site Manager:

N/A

Developer:

Concord Pacific 604-681-8882

Architect:

N/A
Google Map
Bing Map
Google Street View
View Larger Map

Cooper's Lookout Walkway
Picture Taken May 2008



Cooper's Lookout
Picture Taken May 2008


Cooper's Lookout
Picture Taken May 2008


Cooper's Way Looking Toward
Cooper's Lookout
Picture Taken May 2008


Theatre - Esprit City Club
Picture Taken June 2011


Swimming Pool - Esprit City Club
Picture Taken June 2011


Bowling - Esprit City Club
Picture Taken June 2011


Boat Storage - Esprit City Club
Picture Taken June 2011

Security:
Secured underground parkade accessed by using remote entry key-fob
Personally encoded key-fob permits entry to building, lobby, elevators and individual residential floors
Video controlled enter-phone system allows screened visitor entry
Built-in security systems, with door contacts, motion detector and security keypad
Concierge service
Esprit City Club
60' pool

Interior Features:
Expansive windows
All suites with open balconies windows
In-suite heating and cooling system
Fireplace with stone surround and wood mantle
Marble or granite entry
Contemporary low-pile carpeting

Kitchen:
Custom design wood cabinetry with polished chrome hardware
Granite countertops
Glass tile backsplash
Large format porcelain flooring
Stainless steel appliance package including:

Bottom Mount Refrigerator
Gas Cook-Top
Wall Oven
Dishwasher
Microwave Hood Fan

Double stainless steel sink
Recessed pot lighting

Master Ensuite Bathroom:
Marble or granite flooring
Marble countertop
Marble tub and shower wall surround
Wood cabinetry with polished chrome hardware
Custom framed mirror
Double under-mount sinks (in select suites)
Dual flush one piece toilet
Recessed pot lighting

Powder Room: (where applicable)
Marble or granite countertop
Marble or granite flooring
Wood cabinetry with polished chrome hardware
Glass vessel sink with deck mounted, single lever faucet
Dual flush one piece toilet
Recessed pot lighting

Main Bathroom:
Marble countertop
Large format porcelain flooring
Wood cabinetry
Full size soaker tub and shower combination
Glass vessel sink with deck mounted, single lever faucet
Dual flush one piece toilet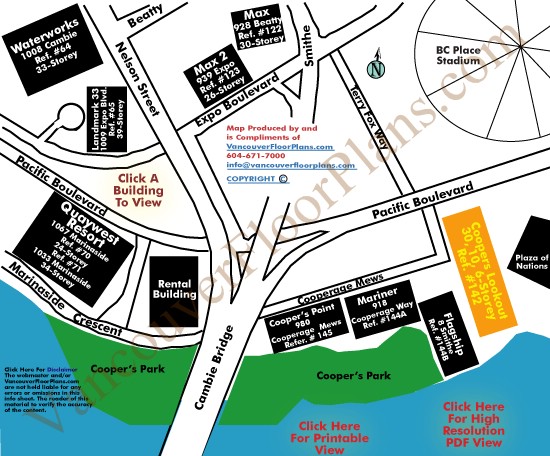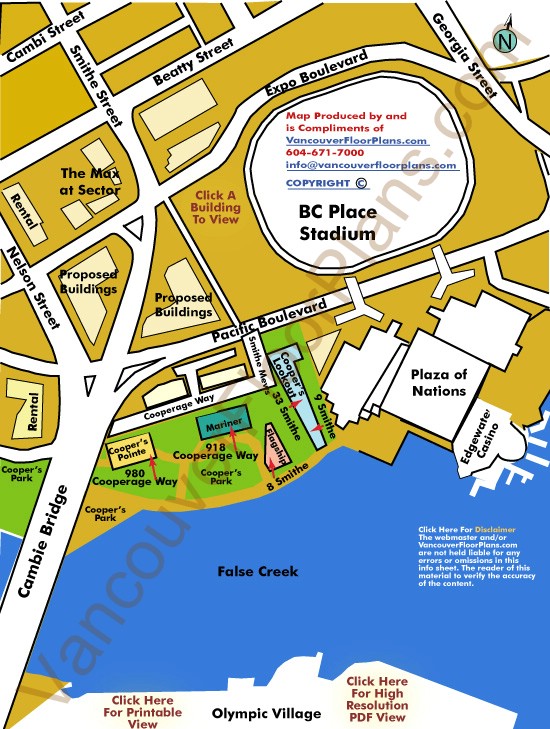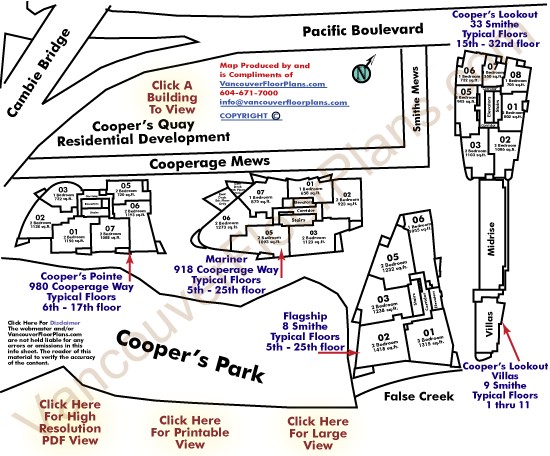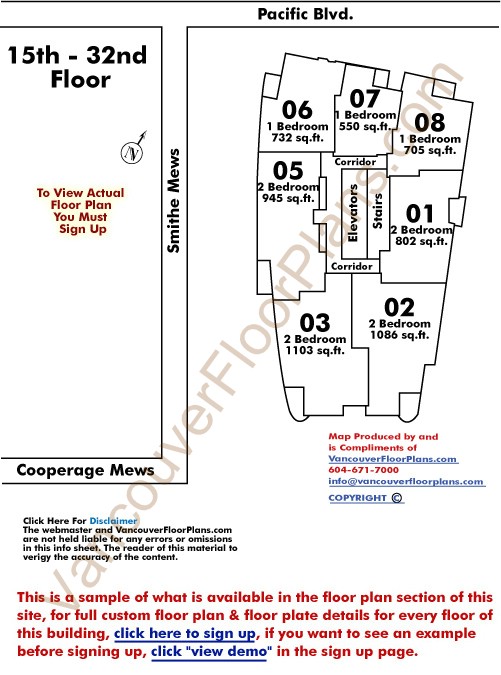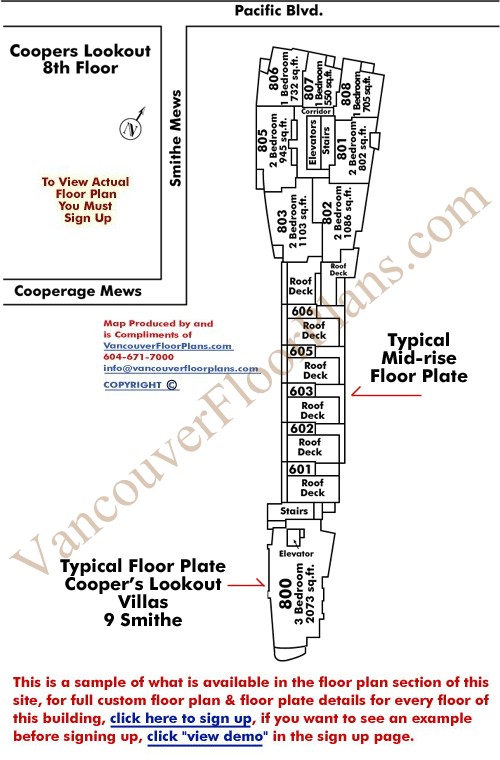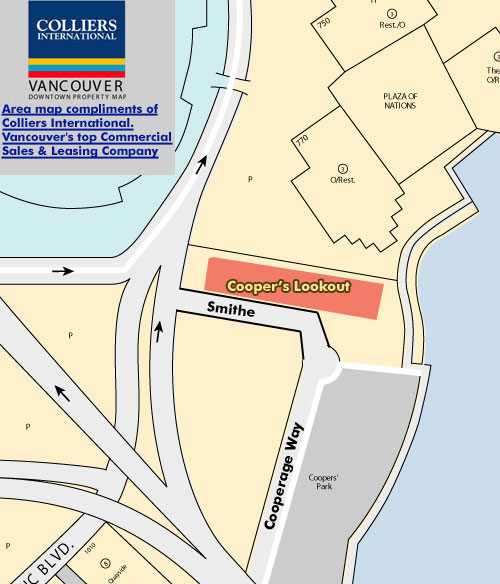 Click Here For Printable Version Of Above Map
Click here for Colliers full downtown area map in PDF format (845 KB)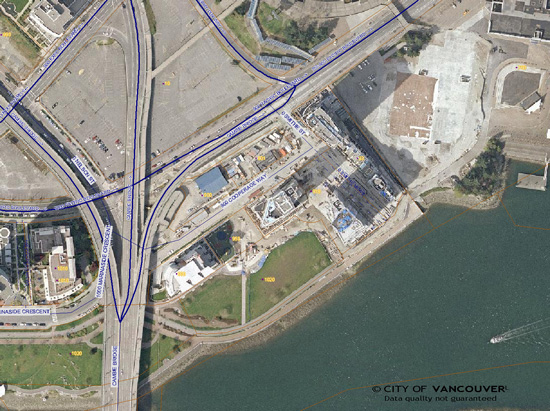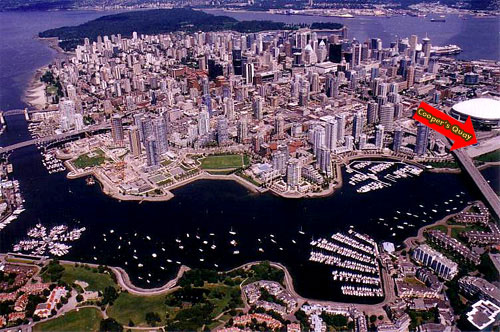 Flagship
Picture Taken June 2011


New Roof U/C
at BC Place
Picture Taken June 2011


Cooper's Park
From Flagship
Picture Taken June 2011


Exercise Room
Esprit City Club
Picture Taken June 2011


Theatre
Esprit City Club
Picture Taken June 2011


Swimming Pool
Esprit City Club
Picture Taken June 2011


Bowling
Esprit City Club
Picture Taken June 2011


Boat Storage
Esprit City Club
Picture Taken June 2011


Cooper's Pointe,
Mariner & Cooper's Lookout


Flagship -- 8 Smithe


Cooper's Pointe
980 Cooperage
Way

Cooper's Quay


Cooperage Mews &
BC Place


Mariner, Flagship &
Cooper's Lookout


Cooper's Park &
Science World


Cooper's Point
980 Cooperage Way


Cooper's Lookout
33 Smithe


Cooper's Quay &
BC Place


Citygate, False Creek
& Coopers Park
& Cooperage Quay


Citygate, False Creek & Coopers Park
& Cooperage Quay


Cooper's Lookout Development
& Cooper's Park
East of Cambie


Citygate, False Creek & Cooper's Park


Citygate,
Cooper's Park
& Olympic Village


Citygate, False Creek
& Cooper's Park








Cooper's Pointe,
Mariner, Cooper's
Lookout &
Cooper's Park
Picture Taken May 2008


Cooper's Lookout
Walkway
Picture Taken May 2008


Cooper's Park &
False Creek
Picture Taken May 2008


Elevated Road
Picture Taken May 2008


Mariner, Cooper's
Lookout & Flagship
Picture Taken May 2008


Mariner &
Cooper's Lookout
Picture Taken May 2008


Cooperage Way
Picture Taken May 2008

Cooper's Lookout
Picture Taken May 2008


Cooper's Lookout
Picture Taken May 2008


Smithe Mews
& Flagship
Picture Taken May 2008


Mariner & Flagship
Picture Taken May 2008


Cooper's Lookout
Picture Taken May 2008


Cooper's Lookout
Picture Taken May 2008


Cooper's Quay
Picture Taken May 2008


Cooper's Quay
Picture Taken May 2008


980 Cooperage Way
Cooper's Pointe
Picture Taken May 2008


Cooper's Pointe
Picture Taken May 2008


Cooper's Pointe
Picture Taken May 2008


Cooper's Way
Looking Toward
Cooper's Lookout
Picture Taken May 2008


Cooper's Pointe
Picture Taken May 2008

Top
Click Here To Print Cooper's Quay Pictures - 6 Per Page
Cooper's Quay

Cooper's Quay
Picture taken July 2009


Cooper's Quay
Picture taken July 2009


Cooper's Quay
Picture taken July 2009


Cooper's Quay
Picture taken July 2009


Cooper's Quay
Picture taken July 2009


Cooper's Quay
Picture taken July 2009


Cooper's Quay
Picture taken July 2009


Cooper's Quay
Picture taken July 2009


Cooper's Quay
Picture taken July 2009


Cooper's Quay
Picture taken July 2009


Cooper's Quay
Picture taken July 2009


Cooper's Quay
Picture taken July 2009