161 West Georgia
,
Vancouver
, BC,
V6B 0K9
Levels:

27

Suites:

253

Status:

Completed

Built:

2012


Map:

Concierge:

N/A

On Site Manager:

N/A

Type:

Freehold


Bldg #:

89
Cosmo News Articles
PRINT VIEW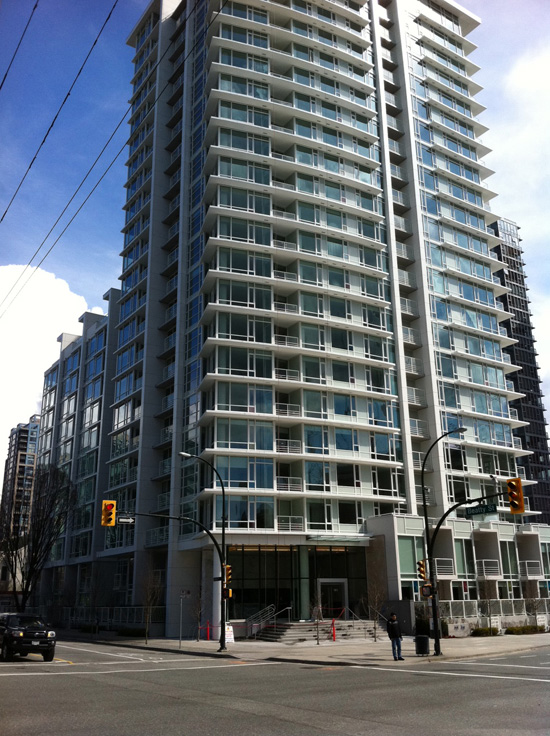 BUILDING WEBSITE Cosmos at 161 West Georgia Street, Vancouver, BC, 253 suites, 27 levels, Estimated Completion 2012. This website contains: current building MLS listings & MLS sale info, building floor plans & strata plans, pictures of lobby & common area, developer, strata & concierge contact info, interactive 3D & Google location Maps link
www.6717000.com/maps
with downtown intersection virtual tours, downtown listing assignment lists of buildings under construction & aerial/satellite pictures of this building. For more info, click the side bar of this page or use the search feature in the top right hand corner of any page. Building map location; Building #89-Map3, E Coal Harbour, Gastown, Citygate & North False Creek.
Strata Company:

Rancho Management Services (B.C.) Ltd. ((604) 684-4508)

Concierge:

N/A

On Site Manager:

N/A

Developer:

Concord Pacific 604.681.8882

Architect:

James K.M. Cheng Architects Inc. (604) 873-4333
Google Map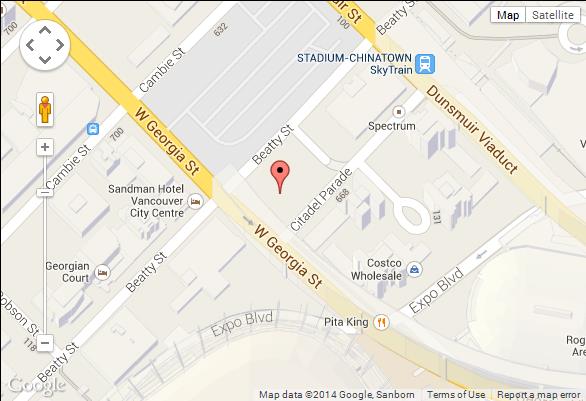 Please click the image above to view full map. This will open in a new window.
Bing Map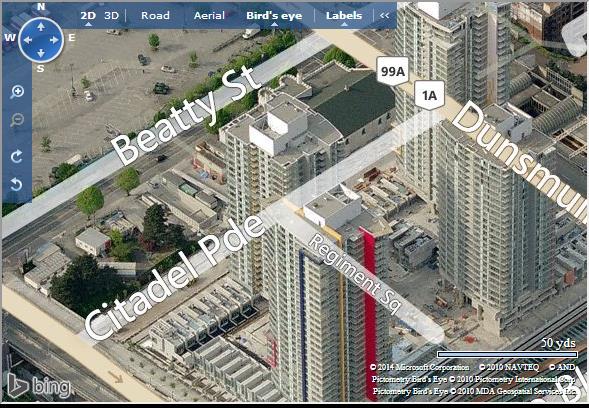 Please click the image above to view full map. This will open in a new window.
Google Street View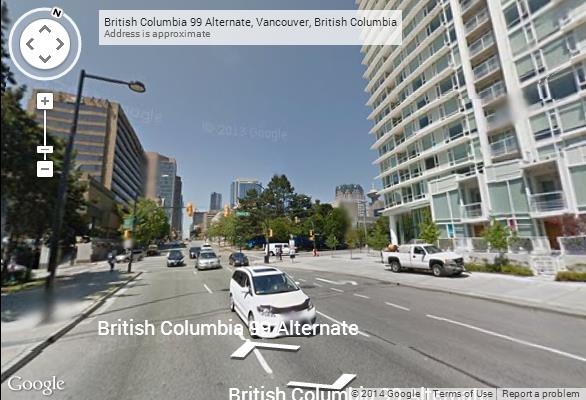 Please click the image above to view full map. This will open in a new window.
Security
Secured undergrund parkade
Encoded entry key fob to building, lobby, elevators and individual residential floors
Video controlled enter-phone
Built-in security systems in City Lofts

Interior
Open balconies
Engineered hardwood flooring
Wool capeting on stairs and upper level of the Cith Lofts
Porcelain tile flooring in the enclosed balcony
Roller shade window coverings
Electric baseboard heating
Television and telephone jacks in every major room
Stackable front load washer / dryer

Building
Double height lobby
Concierge
Three elevators
220V plug-ins in parkade

New Home Warranty Under The Homeowner Protection Act
One year on materials and labour
15 months on common property
Two years on defects related to major systems
Five year on defects to building envelope
Ten year on defects to structure

Bathroom
Custom Vanity with soft close cabinets
Quatz stone countr top
Under-mount sink
Full width morror
Porcelain tile flooring
Porcelain tile feature wall
Porcelain tile tub and shower surround
Rain shower head
Arced shower rod
Dual flush toilet
Recessed pot lighting

Ensuite
Custom vanity with soft close drawer
Quartz stone countertop
Glass under-mount sink
Porcelain tile flooring
Porcelain tile feature wall
Walk-in shower stall
Porcelain tile wall surround
Rain shower head
Dual flush toilet
Recessed pot lighting

Kitchen
Custon cabinetry with soft close drawer
Quartz stone countertop and backsplash
Under cabinet lighting
Large single bowl stainless steel under-mount sink
Stainless steel appliance package

Concord has asked that Owners interested in the purchasing of a parking stall/locker should visit their website at www.concordpacific.com then click tabs [Customer Care / Parking and Storage] and there will be an email address for noting their names on wait list to purchase. The Sales office will receive and do their follow up when the parking stall/storage locker is open for sale at Cosmo.

161 W. Georgia


Entrance


Lobby


Club Cosmos 15th Level


Cosmos
Picture Taked April 2012


Cosmos
Picture Taked April 2012


Cosmos
Picture Taked April 2012


Cosmos
Picture Taked April 2012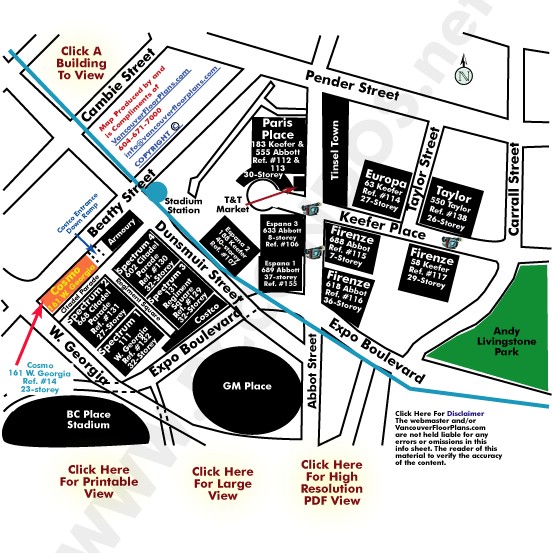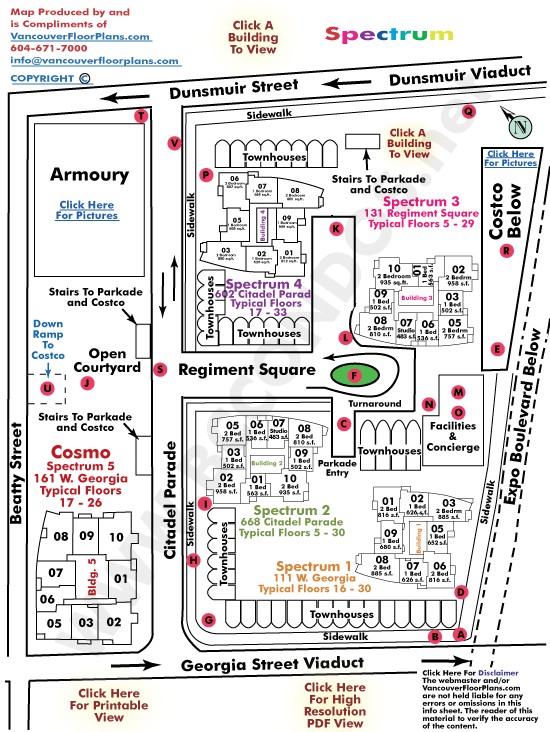 | Click Here For Specturm Facilities Pictures | Click Here For Costo Pictures |

Townhouses at 668 Citadel Parade &
111. W. Georgia Behind


Sidewalk Along Geogia Facing West


Parkade Entrance For 111 Georgia &
668 Citadel


Entrance To 111 Georgia


Costco


Turnaround Courtyard Between 111 Georgia
& 131 Regiment Square


Townhouses at 668 Citadel
& 111 Georgia


Townhouses Looking Down Citadel
Armour Far Back


668 Citadek Entrance


Open Courtyard Next To Armour
Stairs To Parkade & Costco


Parkade Entrance For 602 Citadel
& 131 Regiment Square


131 Regiment Square Entrance


Concierge At Facilities Building


Facilities &
Back Door Entrance to 111 Georgia


Conceirge Lobby


602 Citadel Entrance


602 Citadel & Townhouses


Parkade Entrance To
602 Citadel & 131 Regiment Square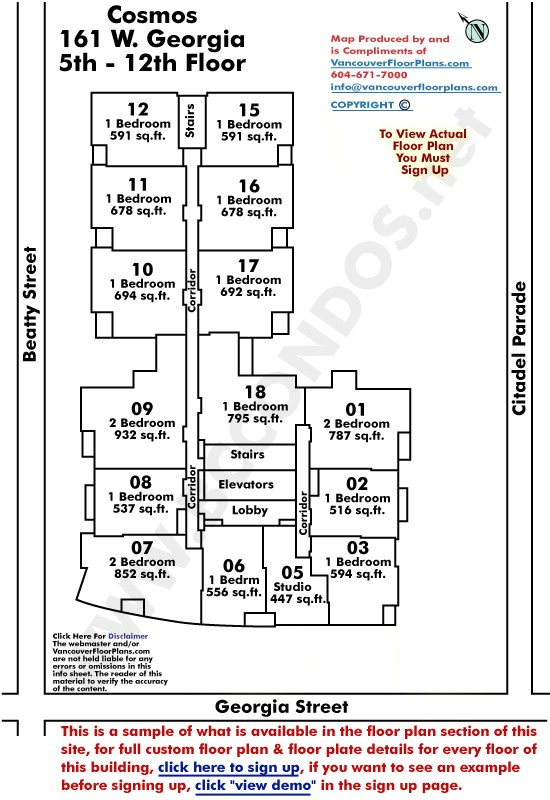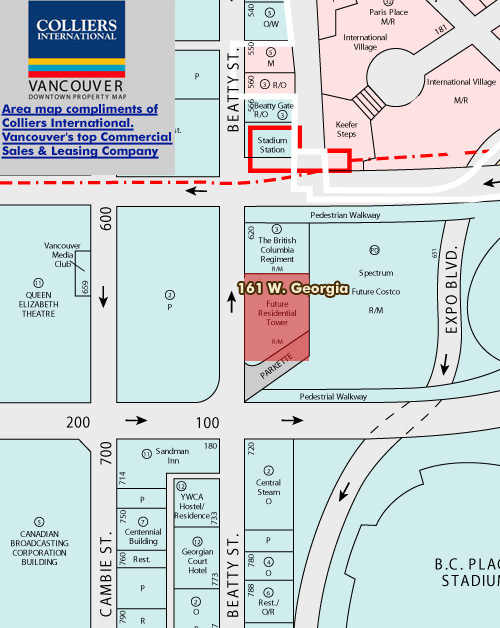 1) Click Here For Printable Version Of Above Map
2) Click here for Colliers full downtown area map in PDF format (845 KB)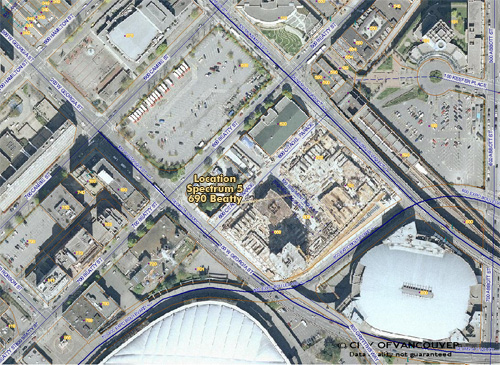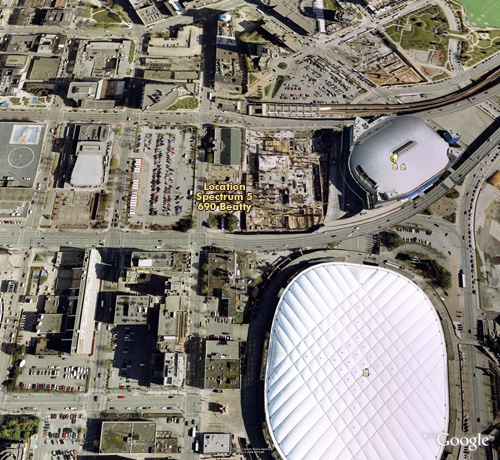 161 W. Georgia


Entrance


Looking Southeast
On West Georgia


Looking Northwest
On Georgia


180 W. Georgia
Across Street


Cosmos


Northwest View
From Level 15


Lobby


Club Cosmos
On Level 15


Club Cosmos
On Level 15


Club Cosmos
On Level 15


Club Cosmos
On Level 15

Top
Cosmo - 161 W. Georgia new building by Concord adjacent to the 4 tower Spectrum Complex, Including Costco
Michael Sasges
Vancouver Sun
Saturday, July, 18, 2009
COSMO
Project location: Georgia and Beatty, downtown Vancouver
Project size: 253 apartments, townhouses
Residence size: studios, 455 sq. ft.; 1 bed, 531 sq. ft. - 601 sq. ft; 1 + den, 607 sq. ft. - 796 sq. ft.; 2 + den, 790 sq. ft. - 939 sq. ft.
Prices: studios, $218,800 - $258,900; 1 bed, $259,900 - $316,900; 1 bed +, $289,800 - $374,400; 2 +, $369,800 - $513,800
Sales centre: 88 Pacific Boulevard at Carrall
Hours: 10 a.m. - 5 p.m. daily
Telephone: 604-899-8800
Web: cosmovancouver.com
Developer: Concord Pacific
Architect: James KM Cheng Architects
Interior designer: Portico Design Group
Tentative completion: Summer 2012
- - -
The inaugural Cosmo households will share a landmark address at prices tabulated for them by Canada's largest residential developer over a winter of economic infamy.
Cosmo is not the first downtown pre-sell resurrected this year after withdrawal last year. That distinction belongs to Richards, from Franceso Aquilini, owner of the Vancouver Canucks.
Almost unsellable in September when their average asking price was just under $800 a square foot, about 170 of the almost 230 Richards homes were sold last month, at $585 a square foot.
Like Richards, the Cosmo homes have been newly priced. The price now is "under $600 a square foot average," Concord Pacific's Grant Murray reports.
"Originally, when we priced this building, at the height of the market, we were around $825," he says. "So we said, 'Okay, what are we going to do.'"
Internally, the Concord Pacific vice-president says, his championship of prices that were competitive with Richards prices was a challenge.
That pride of place that any property-owner must negotiate when setting a selling price was present during the Cosmo pricing-deliberations at Concord Pacific, even at Concord Pacific (almost 70 residential highrises over 20 years in Vancouver and Toronto) would be better: The property is remarkably located and the eventual common areas will be commensurately appropriate.
"I said, 'Look, I'm not out to knock any another developer. I'm excited that they took the first plunge, and have done so well, with 70 per cent sold in 18 days.'
"To me, that was an indication that the market is really quite active and is there. We didn't want to get greedy."
The Cosmo building will rise 23 storeys above the northeast corner of an intersection that defines prominence in metropolitan Vancouver, Georgia and Beatty.
More than 22,000 vehicles eastbound on Georgia pass this intersection every day, city hall says.
Thousands of hockey and football fans pass Georgia and Beatty on foot on their way to and from Canuck and B.C. Lion games in GM Place and BC Place Stadium. Thousands of concert-goers pass by, again on foot, on their special nights downtown.
"I call it [the immediate neighbourhood] 'Funtown,'" Murray says. "It's at the forefront of the entertainment district; it's on the upper side; it's leading into that."
The Cosmo common area that passersby will see, the building's lobby, has been designed and will be furnished to be seen.
Furniture and furnishings will be by Armani Casa, the nine-year-old home-furnishings foray by one of the legends of haute couture, Italian Giorgio Armani.
Walls will be clad in laquered panels. A fireplace will be framed by a full-height surround of marble and metal. More marble will be underfoot.
A concierge will be present 12 hours a day, his or her desk backlit by a fabric-and-glass overlay.
"When we talked to [architect] James Cheng about the lobby, we said, 'Let's do a lobby that says, I'm welcoming you, and would, at the same time, be visually impressive.' This is a Georgia Street address and every time you come down there you will look squarely into it," Murray says.
"We said when people look in here we want to showcase something ... it doesn't have to be super high end ... that would suggest elegance and warmth, that this is a place to live, that you would enjoying living yourself, as opposed to being just investor indicative."
The lobby will share the main floor with another common area. Below the main floor will be yet another common area, a two-lane bowling alley, with lounge seating, a large-screen TV and a bar.
Eleven floors above the main floor will be the outdoor common area. The Cosmo terrace will include a hot tub, a firepit with built-in seating and an outdoor kitchen and barbecue.
Cosmo households will also have the use of the amenities in the next-door Spectrum towers, first of which is the indoor pool.
Spectrum is an important part of the Cosmo story. Part of the Concord Pacific brief to architect Cheng was to distinguish the Cosmo tower from the four Spectrum towers that he designed.
At 23 floors, the Cosmo highrise will not be as tall as the Spectrum highrises, at 32, 30, 27 and 26 floors.
The Cosmo highrise will step upwards, the break in its ascension occurring after 11 floors, and at the outdoor terrace; the Spectrum highrises thrust upwards.
The Cosmo highrise will also eschew the soaring decorative columns of red, blue and yellow, and the red railings and multi-coloured townhouse entrances, that have made the Spectrum highrises the most colourful in the downtown peninsula.
Intersection and neighbouring residences aren't the only physical proximities germane to Cosmo: a new neighbourhood, at city hall called Northeast False Creek, is rising, if only on paper right now, to the east of Cosmo.
"One of the largest undeveloped areas on the downtown peninsula," in the words of a city hall review document, Northeast False Creek will be the creation of negotiations between city hall, the provincial government and the principal property owners, Concord Pacific, Francesco Aquilini (GM Place), BC Pavilion Corp. (BC Place) and Canadian Metropolitan Properties (Plaza of Nations, on the former Expo 86 site).
City council last year gave Pavco 1.4 million square feet of "development potential" at the stadium site. (The Woodwards building has almost 1.23 million square feet of floor space, not to suggest an equivalent is about to rise above BC Place Stadium, but to provide a comparison with a building in the news right now, as the inaugural households prepare to move in.)
Cosmo, in other words, is a Concord Pacific piece in a new-neighbourhood puzzle.
"With another dozen buildings to go, and all centred around the 'entertainment district,' we are at the start of our final hooray," company vice-president Murray says.
"As the largest of the four developers in this area, we want to make a real statement and go out with a real 'bash' over the next years. We're going to do it right."
© Copyright (c) The Vancouver Sun