Alexander's Restaurant
San Jose (Plaza Bonita, mall on the Marina)
Phone U.S.A. 01152 (624) 143 2022, while in Cabo 143 2022
Swiss Chef Alex Brulhart has been turning out appealing international cuisine at his Alexander's Restaurant for seven years. The specialty is fondue (cheese, beef and seafood) and the Hang Beef.
In my opinion, this is the best dinner on the Marina - it is a must try!!
Baja Brewing Company
(San Jose (in Art District))
Morelos # 1277 Col. Centro CP 23400 146-9995 (reservations) [email protected] www.bajabrewing.com Next to Baan Thai in the Art District of San Jose Del Cabo Hours: Noon until 2:00 am daily Happy Hour: 4:00 pm to 8:00 pm daily Live Music weekly, Offering international pub fare with a strong local influence. Burgers, onion rings, pizzas, steaks, seafood, Sheppard's pie, fresh salads, best french fries in Los Cabos and much much more. Featuring eight styles of beer made on premises -- made right here in Los Cabos ---"Hecho in Los Cabos" The only brewery and brewpub in all of Los Cabos. Featuring "Hecho en Los Cabos" Cabotella. "Cabo in every bottle!!"
In the mall across from the children's water park on the malecon. Open for lunch & dinner. Italian. Reasonable.
BUZZARDS
(Seafood, La Laguna, San Jose)
East of the town of San Jose on the La Palyita dirt road is the area La Laguna. The owners figured people would want to drive out there to play on the beach and eat some fresh seafood, and they were right. A great destination place, and the food is always good. You can also rent a room and stay for a few days.
Website: www.vivacabo.com
Daily, Sunday brunch 9 AM - 2:30 PM
CAFE SANTAFE
(Italian, Todos Santos)
This restaurant really started the current renaissance of Todos Santos. Ezio and Paula Columbo had a vision and converted an old family town home into the destination restaurant that draws people from all over the planet. Ezio has created artistry in the kitchen, using only the freshest and best ingredients including all vegetables grown on their farm just a few minutes away. Prepared to perfection using a wood roasting oven for extra flavors, every entree from sushi to lobster to pasta to fresh roasted vegetables is a treat to eat.
Reservations suggested (114) 50340
Daily 110:30 AM - 10 PM closed Tuesday
CASA DE JAVA
(Espresso cafe, San Jose Del Cabo)
This place is really special. Tiny, three tables inside, one on the sidewalk. Feet-thick old adobe and hand hewn ceiling beams. Good food for breakfast lunch and dinner; nice pastries and espresso drinks to wake your smile. It's a young, sophisticated and interesting local clientele; and a natural for suffers, artists and anyone looking for something different and good. You'll find la Casa in the center of San Jose, between the restaurants Floriska and Mi Cocina. 8am-9pm
CHIANTI
(Italian Trattoria, San Jose Del Cabo)
Don't you love it when you find one of those rare places that actually offers fine food in a first-class setting and at surprisingly low prices? Well, Chianti is the real thing. Antipastas from $50 (PESOS?), pasta from $55, gourmet pizza from $60, and the entrees start at $85. Need seafood? Try the Linguini Di Mare for only $110! On the corner of Calle Alvaro Obregon and Calle Morelos in San Jose's Heritage District. No Credit Cards. Reservations are advised.
Phone:14-233-73
E-mail: [email protected].
CORRECAMIN0S CAFE
(Espresso, Bakery, Internet, SJD)
Bob and Wendy Farmer's original store on Blvd. Mijares is so popular they had to build a second location on the Highway to better serve their customers and expand their bakery. A perfect place to get your
caffeine fix while you enjoy a fresh, pastry or quiche. Good sandwiches, and a new Happy Hyper-Hour 2 for I on evening espresso drinks, 6-7pm!. In the Bital Plaza on Mijares between downtown and the beach; or on the Highway near the La Jolla resort, 7am-9pm most days.
Part of the Presidente Hotel. Al a carte Italian menu. Excellent food and nice atmosphere.
Downtown, on the square off Mijares Boulevard. Beautiful restaurant with interior seating, courtyard and plaza seating (ask for the courtyard). Expensive.
EDITHS
(Mexican, Seafood, Cabo San Lucas)
Just I block up the street behind The Office Restaurant you'll find Ediths. It's a haven from the hustle and bustle of Medano beach, and the food is great' Grilled steaks, chicken, lobster, fresh tortillas and salsa. Blankets come out when the cool breezes flow in from the Pacific, and the chimeras all around warm everyone with soothing wood heat. If you're at the beach, is the place to eat
Daily 5:00 PM - 11:00 PM
Call: 1) 1430801
Downtown area, on Juarez just west of the Telmex tower. Excellent Mexican continental cuisine. Moderate.
Turn off Pescador at Banorte and go past the Nun's Hospital about one block. Excellent Mexican cuisine.
El Vaquero Prime Rib House
(San Jose Downtown)
Ricardo Espinoza
Blvd. Mijares # 31 bre-Coronado and Manuel Doblado, Downtown San Jose del Cabo, B.C.S. Mexico 011 52 (624) 105 2703 011 52 (624) 175 3704 [email protected]
www.elvaquerosteak.com
Comments; In Downtown San Jose, a few doors down from Tropicana & across street from city hall, Excellent Steaks & Prime rib - a little on the expensive side, closed Sunday.
FLOJO'S
(Vegetarian, Costa Azul, San Jose Del Cabo)
From the epicenter of Costa Azul, the cortex of the vortex . . . come unique new flavors from the Heart. It's happy hour from now until zen when Chad &. Chris are in the cocina defining the new Baja cuisine while you sip your drink, waiting in the shade. Smoothies 2 sashimi, muymuy bueno Vegetarian, food; plus unique and savory pasta, seafood, tacos and hamburguesas. Full bar, fine wines; \catering Mon-Sat 9am-10pm; closed Sunday.
Reservations 044(114)82078
FLORISKA RESTAURANT
THE UNIQUE GASTRONOMIC PARADISE IN LOS CABOS
Located in San Jose del Cabo downtown next to the town square garden and the "Palacio Municipal', Floriska Restaurant is expecting you. Floriska, named for chef Michel Mustiere's sister, spills out onto the sidewalk of a quiet street pleasantly shaded by old tree branches. The setting is charming, boasting a cozy square dining area and a garden, El Patio de Floriska that takes its French Bourgeois feeling from a large chimney, a bar displaying some excellent wine choices, and inviting tables. A relaxing and charming place where people appreciate tasteful food as much as a romantic setting. All surrounded by live jazz music. Floriska means flower in Polish, is definitely unique on its own. It offers: flavorful array of international dishes with Mexican flavors spiced up by chef Michel Mustiere himself. This harmony of unique and exclusive taste is going to let all your senses be gratefully amazed

We accept VISA, MASTERCARD and AMX
OPEN FOR LUNCH & DINNER
11:30 AM TO IO:30 PM.
BLVD. MAJORS 16-1, CO. CANTER,
San jose del Cabo TEL/FAX (1) 14 24600
French Riviera Bakery & Cafe
(San Jose del Cabo)
Baja California Sur 23400, Mexico 624-104-3125 624-142-3361 [email protected] www.frenchrivieraloscabos.com/bakerylocations.htm If you are looking for the best crepes in San Jose - this is it. Our favorite are Strawberry Crepes. They also have great breakfasts and a wide assortment of pastries. All made on site - you can view the bakers do their thing right in front of you. They have 2 locations - one at KM 6.5 & one in San Jose. We always go to San Jose, never tried the other location. Please also note that they ad 15% tip to every bill.
In the Bital plaza in front of Laguna Vista Condos. Lunch and dinner with a Mexican bistro flair. Moderate.
HUERTE VERDE B&B
(Fine Home Cooking, SJD)
Huerta Verde is a unique and exclusive B&B retreat that covers several acres of lush gardens at the base of a mysterious mountain near San Jose. Owners Jim Bruenger II and his wife Laura at last have decided to open their dining patio to the public oil a limited basis. Jim prepares each meal personally, with the help of his long-time assistant, Blanca. Traditional Mexican dishes are prepared with only ulta fresh seafood, meats and veggies; the special rice is to live for! A SINGLE SEATING IS OFFERED, by reservation only -- at 7:30pm, Mon-Sat.
Phone:044(114)80511
E-mail: [email protected] or
Website: www.lovemexico.com
La Bodega Steak and Wine House
(Los Cabos)
Zaragoza between Guerrero and Morelos Los Cabos, Baja California Sur, Mexico. (624) 142-6619 (Rest.) (624) 142-0831 (Fax), [email protected], www.labodegadesanjose.com (One block from plaza Mijares), Downtown San Jose del Cabo At la bodega steak and wine house, our menu offers assorted appetizers for one person or to share, featuring high quality meats, fresh seafood, a variety of salads, and soup of the day. Entrees highlight the Certified Angus beef cuts, pork porterhouse steak, tender chicken breast and catch of the day.
La bodega evolved after several years of living in San Jose del Cabo and realizing the need for the Mexican contemporary dining. With unique architecture and cozy lighting, dine in our air-conditioned dining room or on the patio under a marvelous wild fig tree surrounding by relaxing music. La bodega features a great selection of domestic and imported liquors and a temperature-controlled wine cellar, offering wines from North and South America, Mexico, France, Spain and Italy.
Stepping into La Bodega (the warehouse) feels like entering a loft even though it's located on street level. Showing off modern interior lines of the air-conditioned dining room, it expands out to a cozy outdoor patio shaded with a canopy of an old tree. With the neat line of wooden tables faced by a long bar on the inside and the romantic setting outside, La Bodega is a sleek yet comfortable dinner spot for any occasion.
Our most favorite Just off the plaza in front of the church. Good pasta and pizzas. Reasonable prices. The people are very nice, too. Phone Number 142-6621 in San Jose. They have 2 locations - other location in Cabo 143-4122. When visiting the San Jose location, you must check out the back open courtyard part of the restaurant, just by walking by & looking at the front section does not give it justice. www.loscabosguide.com/dining/la-dolce-san-jose.htm
LAPAZTA
(Seafood and pasta, La Paz)
Located in the Hotel Mediterrane just one block from the malecon in central La Paz is a restaurant worth hinting for. The guests in the charming hotel are spoiled by such good food prepared with savory spices and fresh herbs from local farmers. The seafood is caught just off the shore and the pasta is homemade. Enjoy a little bistro bar.
DAILY 11:30AM- 10 PM
Call: (112) 51195
On Zaragoza across from the cathedral. Nice seafood.
In the Bital Bank plaza near Salvado Deli, continental cuisine with some Asian Infusion cooking. Moderate to expensive.
Mama Mia** Next door at Coral Baja
(San Jose)
Great Breakfasts for $5, great club houses & BLT's for $5, 1 minute walk from the condo, different theme nights with music every night, dinners are OK, check it out. Dinners are marginal -& would not recommend
Mi Cocina at Casa Natalia
ELEGANT DINING IN SAN JOSE

"Can you recommend a sunny and glamorous vacation getaway with great
food?" "Try Casa Natalia," recommends FOOD &.WINE editor Kate Sekules.
If you are reading this article, then you probably have the "sunny"
part taken care of. Now for the "glamorous" part. ..In a lovely renovated courtyard home in San Jose, just off the main downtown park square, Casa Natalia has carved a reputation throughout the world for first class lodging and dining.
MI COCINA (my kitchen) is a delightfully elegant restaurant that is
part this most charming and nicely done small hotel. The 18-suite hotel
was created as aromantic blossoming for then newlyweds Nathalie and Loic Tenoux. Their initial vision to create a first class restaurant in downtown San Jose led them restore and expand an antique residence in the center of town.
When Mi Cocina open in the spring of 1999, a few armchair consultants advised them to wait until fall to open, so they would benefit from the high season's big rush of tourists. However, their combined restaurant
and hospitality experience told them to open and let their staff have the summer slow time to practice and refine the high level of quality and service they had in mind. But not surprisingly, word of mouth spread quickly, and soon there were crowds, of eager diners.
Perhaps that's because Mi Cocina is truly one-of-a-kind for Los
Cabos. The setting is a very pleasant surprise, with a stunning yet intimate interior by renowned architect Luis Barragan - famous for his nouveau-Mexican style. Dramatic torches, lit each day at dusk, match the lush sound of abundant water falling from a fountain. Most of the seating is outdoors, and the high green canopy of towering native palms maintains the feeling of relaxed intimacy. Truly a
lovely place to dine in downtown San Jose.
Now the restaurant has blossomed through a few tourist seasons. The lounge and bar area has been expanded and the bar has an inviting
"lets hang around here" environment. Jazz music nightly heard throughout the bar and outdoor restaurant adds the sophisticated touch of an intimate "find" in the heart of and old Mexican town.
A recent visit for dinner was a sensational experience. The extensive
wine list left no palate wanting. Loic's signature duck appetizer is
truly wonderful. The presentation and attention to delicate details made the entire dinner presentation, just that, something to enjoy like a theatre show. Loic explains the secret of a good restaurant "fresh ingredients...we have a variety of sources for fresh fish, meats, herbs, cheeses, and that's the base". From there it's the talent of the kitchen "performers" to add the right flavors to bring out the character of the food. The menu changes often based on what's fresh that day.
We the lucky public can just wander in and enjoy this culinary
delight, here in this lovely environment with towering palm trees, the
night stars and the background light jazz. What a nice discovery in this quiet little village of San Jose.. - full of great restaurants and clubs to spend quality vacation social time.
However, reservations advised.
Phone: (from USA) O1l 52 (114)
25100 or 1-888-277-3814
Email: [email protected] cabonet.mx
Website: www.casanatalia.com
Morgan's***** + Morgans Encore****
Downtown San Jose, one block up the "up street" (Manual Doblado at Hidalgo) from the fountain. Great décor, still working out the menu. Expensive. Both restaurants are one block apart & very good Morgans #142-3825 Encore #146-9733. George - head bar tender - knows us
[email protected]
www.loscabosguide.com/morgans-restaurant/index.htm
OASIS BAR & GRILL
(Poolside Food, Cabo San Lucas)
This is a nice find in the center of Marina Sol condo complex. This poolside restaurant and bar serves fresh tasty traditional Mexican and American food all day. Breakfast eggs, lunch hamburger and dinner lobster, this little grill turns out quite a variety of good food. Prices are reasonable, and the football game is probably on
Daily 9 AM - 10:30 PM closed Wed.
PALOMAR
(Local country, Santiago)
This restaurant and small inn have been talking care of adventurous travellers for decades. The simple rooms were the only ones to rent for miles before the growth of the Buena Vista beach area. The bar is a "manly" place with animal heads to prove it, and a sports game always on TV. The outdoor patio is a tranquil eating environment under the shade of the large shade trees. Food is fresh salsa and guacamole for starters, fresh soups and salads, and fresh pescado de mojo de ajo ( lots of garlic) along With chicken arid beef dishes will satisfy every appetite. To find something so "civilized" in this dusty little town is a jewel. Visit the zoo when you hunt out this restaurant.
Daily Lunch & Dinner
Italian restaurant in the Banamex Bank plaza. Wonderful hosts. Moderate.
PAZZO'S PIZZA & PASTA
(Cabo San Lucas)
Located in the heart of Cabo San Lucas just behind the world famous Squid Roe one will find Pozzo's Restaurant and a lucky find it is indeed. The food is hearty, flavorful and very well priced. While canvassing ail of the shops and working up an appetite it is a delightful spot far either lunch, dinner or just a snack.
The theme of the restaurant is an updated version of the Day of the Dead with a skeleton motif, more than capable of keeping one's attention while waiting for a pizza hot out of the oven. The menu is large and well balanced, truly something for everyone. Whether your tastes run to fish, pizza,sandwiches, shellfish or salads the choices are large and well varied. The restaurant's theme is decidedly Italian with many Mexican specialties blending in as well.
The appetizer selection offers many choices from crispy light Jalapeno Rellenos (which are quite. mild and not to be overlooked as being too spicy) to a vast arrays of fresh crisp salads and flavorful authentic Mexican soups.
Now for the ultimate decision required, choosing a main course. The selection of "pizzas make it almost impossible not to order one solely for oneself or to be shared amongst the table. Dinner entrees are large and accompanied by a small side order of pasta as well as fresh vegetables evoked to perfection and a bit crisp. My guest had a wonderful Shrimp Coco-Loco with coconut and a refreshing mango sauce.
Pazzo's offers a great value for lunch with 11 daily lunch specials for only $4.95 which also includes a National Drink. The dessert selection is rather small but contains a perfectly rich delicious flan........ Who needs more?
On the malecon, just across from the Crowne Plaza Hotel. Excellent seafood selections.
Pueblo Bonito Sunset Sunday Brunch******
If you want to experience the best Sunday Brunch in the world, this is a must try. The cost is $35US per person, you have to phone one day in advance for reservations. It is located on the Pacific side of Cabo – about 30 min drive from the condo. Phone number 142-9941 from the room
www.pueblobonitosunsetbeach.com/
On the Malecon across from the Fiesta Inn. Lots of selections. Excellent bar with sports TV. Moderate.
SALINADEL MAR
(Coffee shop with view, La Laguna)
This fabulous little place just opened up with undoubtedly the best coffee shop view in Baja. Lots of specialities, pastries, deli selection, imported wines and this great piece of property to hang out. They even have a TePee for rent with outstanding ocean views. Just 4 km out of San Jose on the La Playita dirt road. A good destination for that first cup of coffee, then stay awhile and play on the beach.
Daily 8AM - 6 PM
Call: (l) 14 00848
SANCHO PANZA
(Mediterranean with Latin flair, CSL)
This hot spot for the locals to hang out and a great surprise for the tourists in right off the Marina in Plaza Las Florias. The best wines coupled with flavorful dishes loaded with depth of flavor and impeccably fresh. Every Wednesday is wine tasting and Thursday Tequila tasting from 5:30 - 6:30. These are different every week, and you can buy at the events. Every evening there's live jazz from 8-11 and usually there is a local artist featured. Reservations suggested.
Daily 4 pm-Midnight (1) 14-33212
SARDINA CANTINA
(American &. Mexican, San Jose Del Cabo)
Here's a swell little Sports Bar that has good food: breadfast, lunch and dinner, plus Nightly Specials. It's a lively scene with lot's of the local who's who and a few wily and wise tourists. Great T-bone, prime rib, super burgers and serious SPORTS action on two big monitors. It's in the Costa Azul section of San Jose, right on the Highway near the Coral Baja resort, next to BAJA Properties.
7:30am-10:00pm.
MC &VISA accepted.
S0LOMAN'S LANDING
(CaboCuisine/Cerveza Oasis, CSL)
This place is Classic Cabo and more. On the Marina at Piza Las Glorias, Solomon's is the dead solid perfect after fishing /diving /golf The drinks here are a cut above and always bien fna; and the food quality and presentation is gonna surprise you. (Owner/chef Brian has some seriously French culinary training as his background). Some of the finest fish tacos, burgers and steaks you can get. And ask Brian to tell you his secret theory on how to prepare a proper lobster! Fresh seafood, you bet. And if you kill it, they'll grill it! A truly great value.
Daily, 9am -10pm (1)14-37266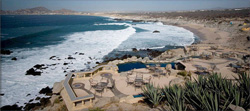 Our unique location on the tip of the bay of Cabo San Lucas has breath-taking views of the ocean and the arch. Join us for Sunset cocktails and class Seafood Italian style culinary experience.
Sunset Da Mona Lisa is located on the opposite side of the bay and overlooks the magnificent arch that divides the Pacific Ocean from the Sea of Cortes.
This place is a landmark for the city of Cabo San Lucas. Enjoy sunset drinks on the terrace facing the sea, a romantic candlelight dinner for two or a magnificent event. You will feel that any occasion here at Sunset Da Mona Lisa is a unique experience. We look forward serving you fresh Seafood Italian style in Cabo San Lucas

Contact our group Event Specialist, for your corporate or wedding event:
Events RSVP by Phone: + 52 624 145 80 77
Events RSVP Online: Event Booking Inquiry
Events RSVP email: [email protected]
Make Dining Reservations by Phone or Online:
Dining RSVP Line 1: + 52 624 145 81 60
Dining RSVP Line 2: + 52 624 145 81 66
Address: Sunset da Mona Lisa, Transpeninsular 6KM, Missiones Del Cabo, Cabo San Lucas, B.C.S. 23410
Office Telephone: + 52 624 145 80 77
Office Fax: + 52 624 104 31 07
Business Hours: Open Daily 8:00 am - 11:00 pm
Sunset Da Mona Lisa Website

Downtown, one-half block up Manual Doblado from Mijares (near city hall). Beautiful courtyard restaurant with excellent food. Reservations recommended (2 11 55). Expensive.

In the clubhouse of the Mayan Palace Golf Course. International cuisine with an oriental flair. Moderate to Expensive.

Downtown on Mijares Boulevard, about one block south of the fountain. Good bar, good restaurant, cute hotel. Moderately expensive, lots of food. One of our favourites. A must go to place. Phone #142-2311, make reservation & sit out side on the patio http://www.tropicanacabo.com/

TODOS SANTOS CAFE.
(Baja traditional,Todos Santos)

This cafe started out to fill a need by people wanting morning coffee and muffins and grew to 3 meals per days that are all hearty experiences' in flavors and freshness. Preparing food found on farms in the area and from the seas of the local beaches, the TS cafe excels in a wide variety of food including incredible bakery goods (ie luscious desserts), health drinks and smoothies, salads, seafood, soups.
Entertainment at night.
Daily 8 AM-10 PM

Downtown, opposite the city hall and fountains. Newly renovated with roof garden (Shooters). Good food. Moderate prices.

VILLA SERENA
(Baja home cooking, CSL)

You need to drive to this restaurant just a few kilometers east of Cabo, but it's worth it for the total change in environment. Perched on the top of a hill with a sweeping ocean view. this comfortable restaurant is the perfect place for lunch or dinner. A swimming pool invites you to the lower pool, and if it's hot lunch and spend the afternoon swimming. Mexican specialties and sea food.
Daily 7:00 AM-11:00 PM
Call: (1) 14 58244

In the art district in the Casa Paulina complex. Mexican food with a fresh twist. Open for lunch & dinner. Moderate to expensive.

Zippers Beachfront Restaurant
(San Jose)

Location Km 28.5 on Transpeninsular Hwy., In Playa Costa Azul, just south of San José (624) 172-6162

If a cheeseburger in paradise is your mission, Zipper's is the real deal. Located along the Corridor near San José del Cabo, surfers downing icy Pacíficos and fresh shrimp ceviche merge with fishermen bolting Sauza and fried-fish tacos. However, the not-so-humble cheeseburger is the star of Zipper's gringo-fabulous menu. Service is slow, so pass the time watching pelicans swoop the swells, catching rays in board shorts and bikinis, and blissing out to the Jimmy Buffet-laced Radio Margaritaville, which is Zipper's 24/7 soundtrack. You won't find dance contests and jet-ski vendors here; located beneath a beachfront palapa that faces a surf break of the same name, Zipper's is a stripped-down sensory experience that rivals even the swankiest Los Cabos restaurant -- at a slightly lesser price tag.

Price Range: Burgers and sandwiches $7-$10; main courses $7-$18
Open Hours: Daily 11am-11pm

Hotel next door - www.cabosurfhotel.com/ - Cabo Surf Hotel is located in one of the top surfing beaches in Los Cabos. Enjoy the long rides, the ideal spot for long boarders. The property is on the tourist corridor highway just 8 minutes from downtown San Jose del Cabo


In the refurbished mall beside Mega. Modern setting. Unique Mexican food.
---
List Compliments of Les Twarog RE/MAX Crest Realty, www.6717000.com