400 W. 1st
,
Vancouver
, BC,
Levels:

0

Suites:

0

Status:

Estimated Completion Fall 2010

Built:

N/A


Map:

Concierge:

N/A

On Site Manager:

N/A

Type:

Freehold


Bldg #:

901
Southeast False Creek - The Village on False Creek News Articles
PRINT VIEW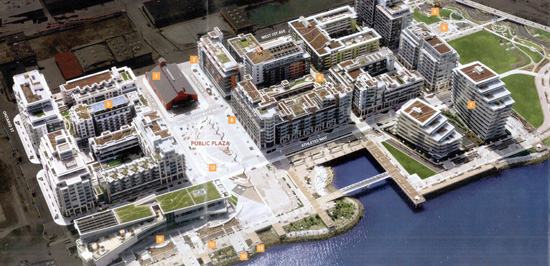 BUILDING WEBSITE The Village on False Creek at 400 W 1st Avenue, Vancouver, BC, 733 suites. This website contains: current building MLS listings & MLS sale info, building floor plans & strata plans, pictures of lobby & common area, developer, strata & concierge contact info, interactive 3D & Google location Maps link
www.6717000.com/maps
with downtown intersection virtual tours, downtown listing assignment lists of buildings under construction & aerial/satellite pictures of this building. For more info, click the side bar of this page or use the search feature in the top right hand corner of any page. Building map location; Building #901-Map 3, East Coal Harbour, Gastown, Downtown & Citygate Area..
Strata Company:

N/A

Concierge:

N/A

On Site Manager:

N/A

Developer:

N/A

Architect:

N/A
Google Map
Bing Map
Google Street View
View Larger Map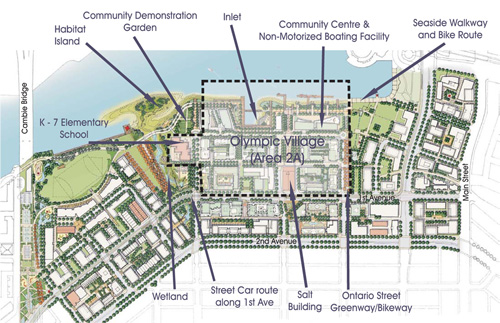 "The homes at Millennium development are bringing to the market are the most studied designs ever in the history of new-home projects. Every plan has been through 12-16 revisions. The thoroughness driven by a desire to anticipate design three years from now. This project is located on the Southeast corner of False Creek. The first two towers will be located at 181 and 123 W 1st Ave. There are to be 733 market homes (302 in phase 1); 16 residential buildings that will span seven city blocks. Size of suites will be 600 - 2,400 sf. Presentation centre is located at 212 W 1st, entrance on Cook Street, 604-733-2010. Web site; http://www.millenniumwater.com/ , email

[email protected]

Developer - Millennium Southeast False Creek Properties Ltd - Principal Shahram Malek, Architects; Arthur Erickson with Nick Milkovich & Lawrence Doyle Architects; Merrick Architecture Borowski Lintott Sakumoto Figg Ltd; Walter Franci Architect, Interior Design; Coordinated Hotel Interiors Ltd, Occupancy Summer and Fall, 2010
Also in the development is a London Drugs and an Urban Fare Market.
City of Vancouver Planning Department additional Information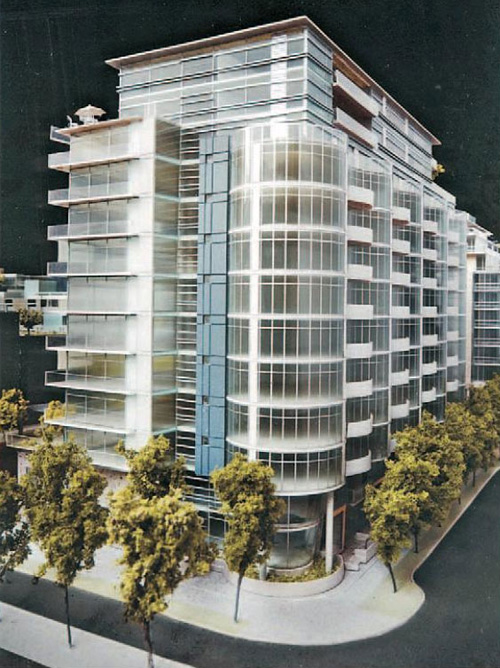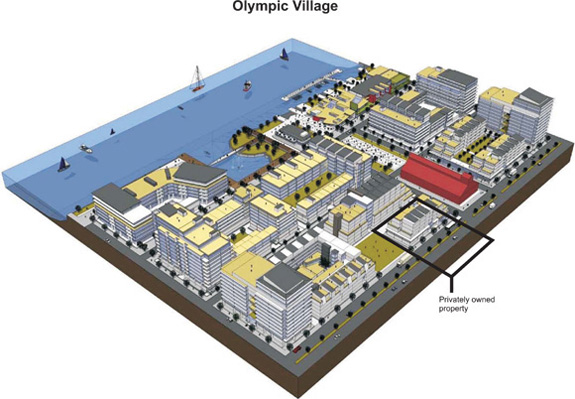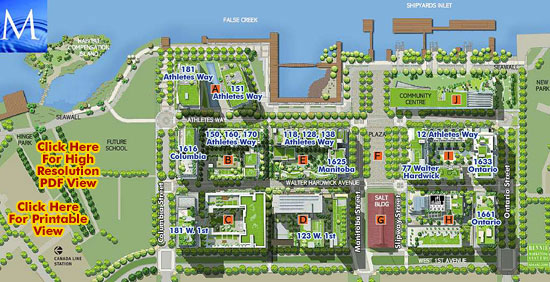 Millenium Water


Millenium Water


Olympic Village Under Construction
Picture Taken February 2008


Olympic Village Under Construction
Picture Taken February 2008


Olympic Village Under Construction
Picture Taken February 2008


Olympic Village Under Construction
Picture Taken February 2008


Heritage Building on W. 1st
Picture Taken February 2008


Millenium Water Looking East
Picture Taken February 2008


False Creek, Science World &
Olympic Village Site


False Creek & Olympic Village Site


To False Creek Walkway


Ontario Station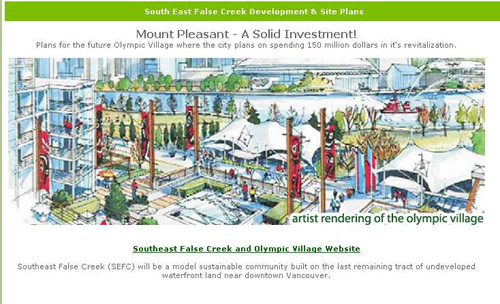 For more info on this project please go to the city of Van. site And Click On Olympic Village Updates

Looking East Along
1st Ave.
Picture Taken April 2008


Salt Building
Picture Taken April 2008


Looking West Along
1st Ave.
Picture Taken April 2008


Olympic Village
Under Way
Picture Taken April 2008


Phase I Construction
Picture Taken April 2008


Phase I Construction
Picture Taken April 2008


Phase I Construction
Picture Taken April 2008


Phase I Construction From Across False Creek
Picture Taken April 2008


Phase I Construction From Across False Creek
Picture Taken April 2008


Phase I Construction From Across False Creek
Picture Taken April 2008


Phase I Construction From Across False Creek
Picture Taken April 2008


Phase I Construction From Across False Creek
Picture Taken April 2008


Millennium Water Construction Site of Olympic Village
Picture Taken July 2007


Millennium Water Construction Site of Olympic Village
Picture Taken July 2007


Millennium Water Construction Site of Olympic Village
Picture Taken July 2007


Millennium Water Construction Site of Olympic Village
Picture Taken July 2007


Millennium Water Construction Site of Olympic Village
Picture Taken July 2007


Millennium Water Construction Site of Olympic Village
Picture Taken July 2007


Millennium Water Construction Site of Olympic Village
Picture Taken July 2007


Millennium Water Construction Site of Olympic Village
Picture Taken July 2007


Millennium Water Construction Site of Olympic Village
Picture Taken July 2007


Millennium Water Construction Site of Olympic Village
Picture Taken July 2007


Millennium Water Construction Site of Olympic Village
Picture Taken July 2007


Millennium Water Construction Site of Olympic Village
Picture Taken July 2007


Millennium Water Construction Site of Olympic Village
Picture Taken July 2007


Millennium Water Construction Site of Olympic Village
Picture Taken July 2007


Millennium Water Construction Site of Olympic Village
Picture Taken July 2007


Millennium Water Construction Site of Olympic Village
Picture Taken July 2007


False Creek &
Olympic Village Site


False Creek &
Olympic Village Site


False Creek &
Olympic Village Site


False Creek &
Olympic Village Site


Olympic Village Site
& Cambie Bridge


Olympic Site &
Salt Building


Construction Site

1 Athlete's Way
Community Centre


Along W. 1st Ave.


Looking West From Ontario Street


To False Creek Walkway


Construction Site


Ontario St. Looking North


Ontario Station


Olympic Site & Salt Building


GM Place, BC Place, Spectrum U/C &
Olypmic Village Site


BC Place, False
Creek & Olypmic
Village Site


Beside Science World


Science World & Olympic Village Site


Science World &
Olypmic Village Site


False Creek


Olympic Village Site


Olympic Village Site
& Future Marina


Olympic Village Site

Top