1290 Burrard
,
Vancouver
, BC,
V6E 4R7
Levels:

54

Suites:

810

Status:

Estimated Completion 2019

Built:

N/A


Map:

Concierge:

N/A

On Site Manager:

N/A

Type:

Freehold


Bldg #:

190
PRINT VIEW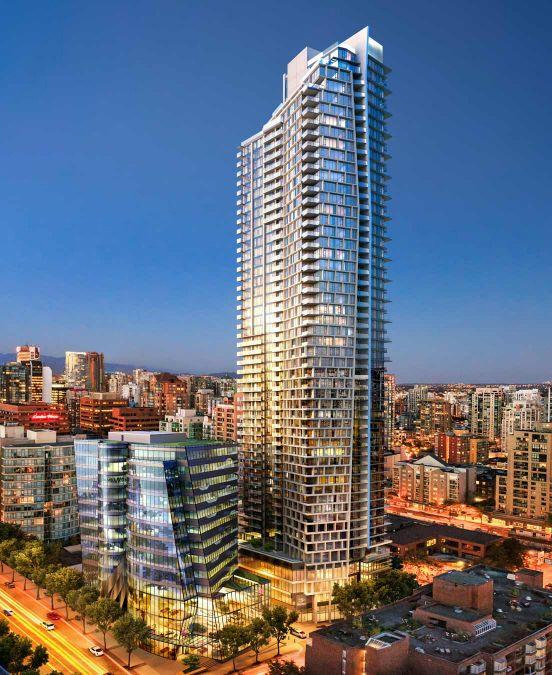 BUILDING WEBSITE One Burrard Place 1290 Burrard Street and 1281 Hornby Street, Vancouver, BC, V6E 4L8. A 3 tower complex in the West End Neighborhood, a 48 level, 36? level tower and a 13 level office tower. Included in the development a new Jim Patteson Toyota Dealership. This website contains: current building MLS listings & MLS sale info, building floor plans & strata plans, pictures of lobby & common area, developer, strata & concierge contact info, interactive 3D & Google location Maps link
www.6717000.com/maps
with downtown intersection virtual tours, downtown listing assignment lists of buildings under construction & aerial/satellite pictures of this building. For more info, click the side bar of this page or use the search feature in the top right hand corner of any page. Building map location; Building #190-Map1, Concord Pacific, Downtown & Yaletown Area.
Strata Company:

N/A

Concierge:

N/A

On Site Manager:

N/A

Developer:

Reliance Properties Ltd. And Jim Pattison Developments Ltd. (604) 683-2404

Architect:

IBI/HB Architects (604) 683-8797
Google Map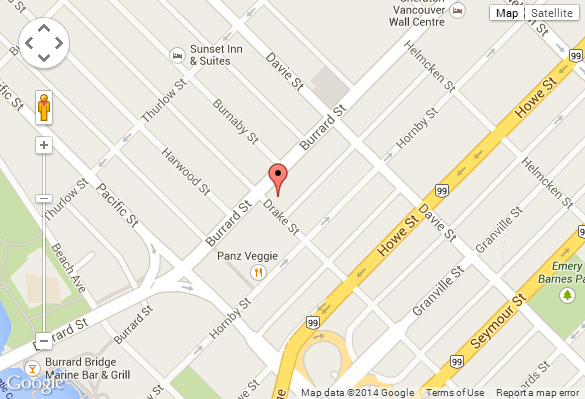 Please click the image above to view full map. This will open in a new window.
Bing Map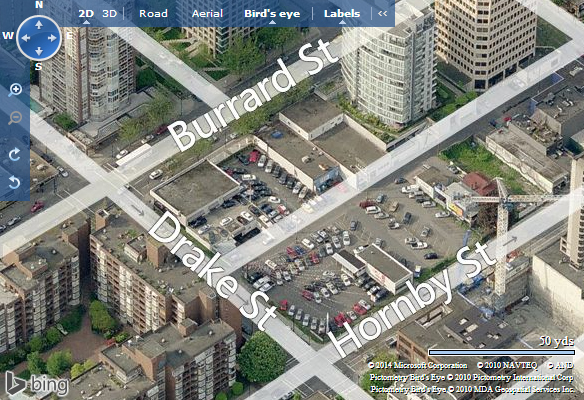 Please click the image above to view full map. This will open in a new window.
Google Street View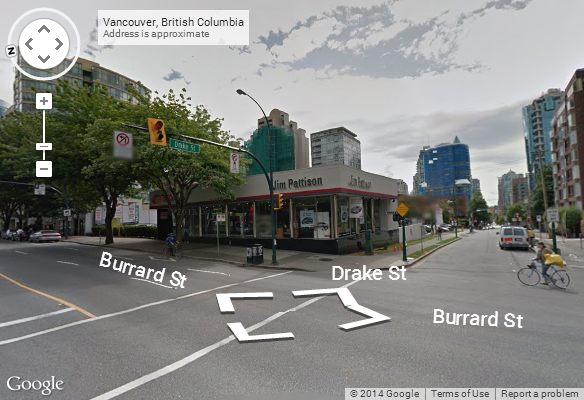 Please click the image above to view full map. This will open in a new window.
>

The Toyota Show Room And Offices With Tower Behind

Layout of the New Toyota Dealership

Burrard Gateway Proposed Project


Burrard Gateway Proposed Project

>
Rezoning Application


View Looking North From Burrard Bridge

>
One Burrard Place Loggy


Swimming Pool


The Office Building
Facade Design: The West & East facades of the Office features a decorative frit pattern imbedded into the glass. this lace motif will decrease solar heat gain while retaining maximum view out. The south facade has louvers on every floor slab.
Daylighting: 12' clear floors with floor to ceiling glazing and a relatively shallow office floor plate will allow daylight to enter all parts of the building. The narrow footplates will also create a sense of connection to the external environment, creating a more livable and workable environment.
Heating & Cooling: We will be exploring the use of Geo-exchange Fields to store heat under the buildings, an energy highway to transfer waste heat from air conditioning to building heating and domestic hot water systems, heat recovery from the office ceiling plenum, heat recovery from restaurant / automotive / office exhausts, solar heating panels, heat recovery from sewage, variable speed drives on all major heating and cooling systems, 19 SEER air conditioning units and natural ventilation for cooling of atrium and high ceiling areas. Key energy concepts will be confirmed through detailed energy modeling through the BC Hydro New Construction Program.
Green Roof: A green roof will cover a percentage of the main mechanical level, with a large canopy to further shade the roof activities and decrease its overall albedo and heat island effect. The green roof will also be a key component in reducing the developments impact on local storm sewer infrastructure by significantly reducing storm water runoff compared to existing conditions. The green roofs and accessible areas will also create a retreat within the development; a place where the residents and office employees can enjoy breaks away from the noise and bustling city life around the development.
The Towers
The showroom at grade of Tower A will be for Toyota's new Sub-compact brand - Scion, a compact fuel-efficient vehicle. From the lane a surface parking zone will be retained. In Tower C; containing 16 Toyota fuel efficient vehicles for the project's Car Share program.
The outward leaning facade will decrease solar heat gain, and a green roof with low albedo surface materials will decrease heat island effect and interior heat gain. To provide shade from the heat intensive western sun path and further reduce solar heat gain, the South Facade will be equipped with large horizontal overhangs; the East and West feature facade will be configured in a staggered frit, and the organic pattern will also provide an opportunity to decrease the elevations' overall quantity of glazing. Conversely the lower units gain the benefit of increased privacy by the smaller quantity of vision area. This punched facade will also act as a heat sink, drawing in heat during the day and releasing it to the interior during the night.
Recreational Facilities In Tower A on Seventh Floor
Indoor Pool
Indoor Hot Tub
Sauna
Steam Room
Changing Rooms
Washrooms
Gym Area
Yoga Studio Area
Spa and Massage Area
Lounge
Dining Area
Kitchen Area
Billiards and Games Area
Wine Tasting Area
Wine Deck
Music Practice Rooms
Study Area
Children and Youth Lounge
Outdoor Family Dining and Sun Deck
Outdoor Children's Play Area
Attendant Reception Area
Butler Concierge Office
Storage Rooms

In the Pool Area:
4 Loungers
2 Side Tables
Safety Equipment Required by Code

In the Study Area:
Study Bench
10 Study Bench Stools or Chairs
Chaise Sofa
Coffee Table

In the Music Practice Rooms:
8 Chairs
1 Round Table

In the Children and Youth Lounge:
1 Play I Seating Structure

On the Deck Adjacent to the Children and Youth Lounge:
4 Round Tables
16 Chairs

In the Wine Tasting Area:
One High Top Tasting Table
8 Bar Stools

On the Wine Deck:
3 High Top Tables
9 Bar Stools

In the Lounge:
1 Pool Table with related basic equipment.
1 Area Rug
1 Chaise
6 Casual Chairs
2 Coffee Tables
1 Dining Table(s)- Seating 16
/1 Service Kitchen with Cooktop, Warming Oven, Sink, Fridge and Dishwasher

On the Outdoor Family Dining and Sun Deck:
1 Gas Fired - Fire Pit
2 Casual Chairs
1 Dining Table(s)- Seating 16
5 Round Outdoor Tables
10 Chairs
Outdoor Kitchen with BBQ, Sink and Prep. Fridge
3 Loungers
2 Side Tables

In the Attendant Reception Area:
Club One Service Desk (Built in or Free Standing)
2 Upholstered Waiting Benches
Coffee Tables

In the Butler Concierge Office:
1 Desk
2 Chairs

In the Gym Area:
Universal Gym's of varying functions
3 Elipticals
4 Treadmills
4 Spin Bikes
2 Rowing Machines

In the Spa and Massage Area:
1 Desk
1 Desk Chair
2 Visitor Chairs
1 Pantry with Sink and Bar Fridge, or such other equipment and furnishings of similar scope and purpose as determined by the Developer in its sole and absolute discretion.

In the Private Dining Area:
1 Dining Table Seating 10
10 Dining Chairs
Built in or Free Standing Upholstered Bench
1) Click Here For Printable Version Of Above Map
2) Click here for Colliers full downtown area map in PDF format (845 KB)
One Burrard Place 1290 Burrard Street 394 homes in a 53 storey tower by Jim Pattison Group and Reliance Properties
Residential tower set to be among the tallest in Vancouver
Friday, October 29th, 2010

Burrard site may contain 510 strata units
Mike Howell
Van. Courier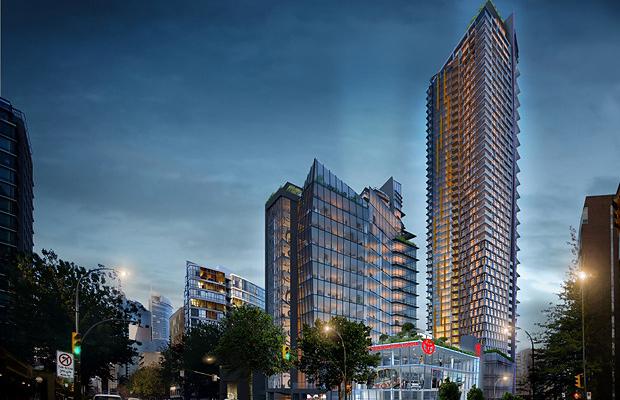 A new development proposal would put three new towers—one 48 storeys—near the north end of the Burrard Bridge, a 36-storey condo building (355 feet) and a 13-storey office structure (184 feet). . Photograph by: submitted illustration, for Vancouver Courier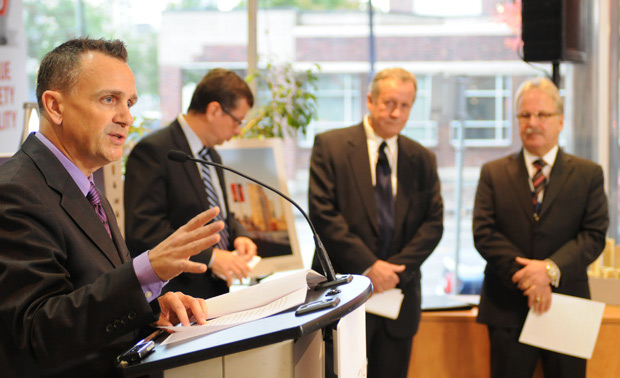 Jon Stovell, president of Reliance Properties, talked about the planned three-tower Burrard Gateway Tuesday at Jim Pattison's Toyota dealership on Burrard Street. Photograph by: submitted, for Vancouver Courier
The city's downtown skyline could be changing again now that two developers want to build a 466-foot tower–the same height as One Wall Centre–near the north end of the Burrard Bridge.
Reliance Properties Ltd. and Jim Pattison Developments Ltd. held a press conference Tuesday at Pattison's Toyota dealership on Burrard Street to announce a $500-million mixed-use development called Burrard Gateway.
"The Burrard Gateway site will be a very prominent and stunning architectural statement on that skyline," said Jon Stovell, president of Reliance Properties, which owns 14 of the 23 city lots that comprise the development. Pattison owns the other nine.
The 48-storey tower is the tallest of three proposed for the project, including a 36-storey condo building (355 feet) and a 13-storey office structure (184 feet). A seven-storey "podium" will be attached to the tower and feature up to 100,000 square feet of office space.
The development is spread over 23 city lots between Burrard and Hornby streets at Drake Street. It has the potential for 510 strata units and 79 or more market rental units, ranging from 600 to 1,400 square feet. Subsidized housing will not be part of the development.
Although the tower exceeds the city's view corridor guidelines by about 100 feet, the city has identified the project as one of six downtown sites that could receive an exemption and allow a taller building.
This came after city council in January directed staff to report back on potential opportunities for higher buildings outside of view corridors, if they demonstrated "a new standard for green building design and recognizable architectural excellence."
The proposed design of the complex aims to achieve LEED Gold status, with an emphasis on energy savings and the use of green roofs. A 5,200 square foot daycare, a community gallery, a large public courtyard and a car share program operated by Toyota are also part of the plans.
The Toyota dealership will remain on the site but will be significantly upgraded with a 50,000 square foot, three-storey glass "jewel box" showroom where Toyota vehicles can be viewed from the street.
If accepted by city council, the tower will obstruct views of residents living in neighbouring smaller towers. But Stovell said people who live downtown accept the cityscape is always changing.
"I think a lot of people understand that," he said. "You're buying in a city. There may be a view, there may be less of a view in the future."
The proposal comes as the housing market remains flat. Sales remain slow at such landmark projects as the Olympic Village condo complex, built by Millennium Developments. Stovell wouldn't say how much the units at Burrard Gateway would cost.
"Millennium is going to be a successful project–we're going to see that quite soon," he said. "That being said, this is the downtown core, it's a very proven, very deep market and those units can be brought on in increments. So, no, we really don't have that concern."
The developers are in the early stages of seeing the proposal through the necessary channels at city hall, which includes filing a rezoning application, a public hearing and approval from city council.
The proposal would also have to be reviewed by an expert panel of architects, including two from outside the country–a common practice in the city for reviewing proposals for buildings that exceed 450 feet. Stovell anticipated the project could be built by 2014, if accepted by council.
© Copyright (c) Vancouver Courier

Toyota Dealership
And Offices


At The End Of The Bridge
Site Redering


One Burrard Place

>
Sun Set


Location of Burrard Gateway Project


Display Unit Wine Tasting

>
One Burrard Place


One Burrard Place


Gym


Display Kitchen


Living Area Dark Scheme


Living Area Light Scheme

>
Lobby


Swimming Pool

>
Living Room


Bathroom

Top