800 Griffiths Way
,
Vancouver
, BC,
Levels:

12

Suites:

0

Status:

N/A

Built:

N/A


Map:

Concierge:

N/A

On Site Manager:

N/A

Type:

Freehold


Bldg #:

911
800 Griffiths Way News Articles
PRINT VIEW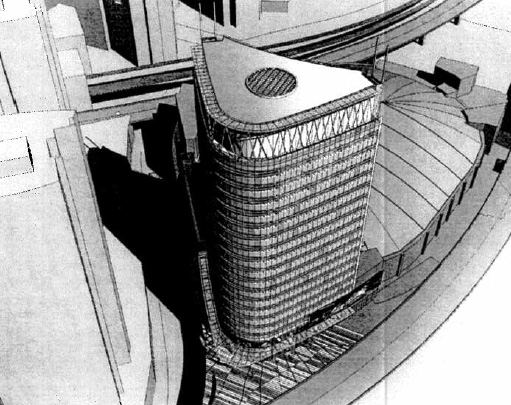 BUILDING WEBSITE 800 Griffiths Way at 800 Griffiths Way, Vancouver, BC, 12 levels. This website contains: current building MLS listings & MLS sale info, building floor plans & strata plans, pictures of lobby & common area, developer, strata & concierge contact info, interactive 3D & Google location Maps link
www.6717000.com/maps
with downtown intersection virtual tours, downtown listing assignment lists of buildings under construction & aerial/satellite pictures of this building. For more info, click the side bar of this page or use the search feature in the top right hand corner of any page. Building map location; Building #911-Map 3, East Coal Harbour, Gastown, Downtown & Citygate Area..
Strata Company:

N/A

Concierge:

N/A

On Site Manager:

N/A

Developer:

N/A

Architect:

N/A
Google Map
Bing Map
Google Street View
View Larger Map
 Peter Busby, Architect, described the proposal noting the different uses in the project, including space for retail and cultural amenities. The bottom five floors of the tower will be connected to GM Place for circulation and access to the retail and restaurants. No new parking has been included in the proposal as there is sufficient in the arena. Mr. Busy noted that it will be a very high perfoming building in terms of environmental issues.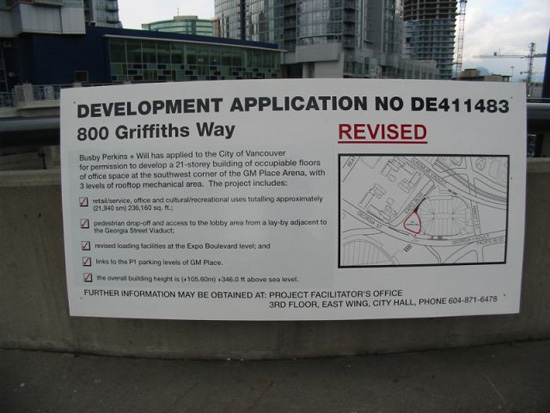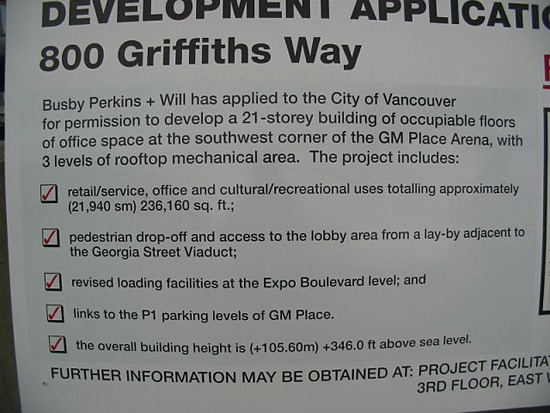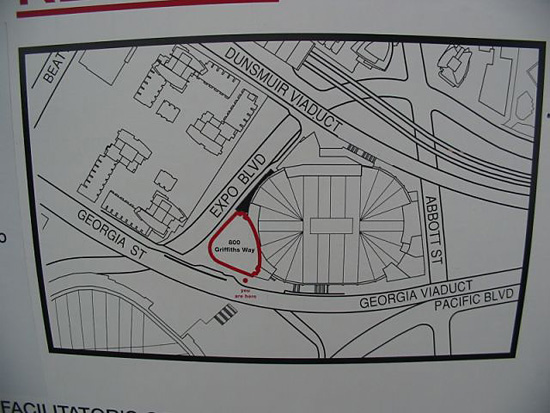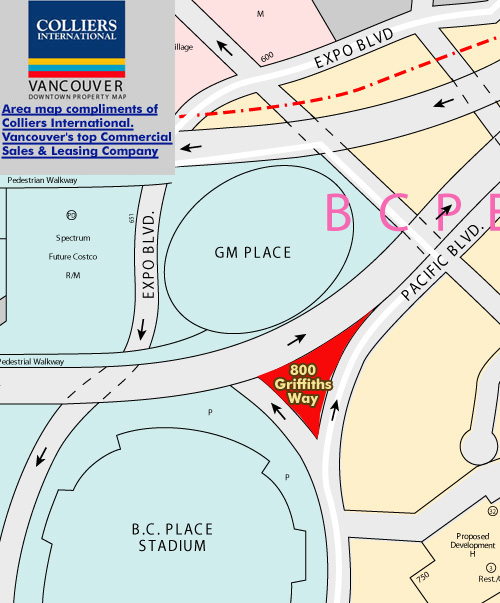 1) Click Here For Printable Version Of Above Map
2) Click here for Colliers full downtown area map in PDF format (845 KB)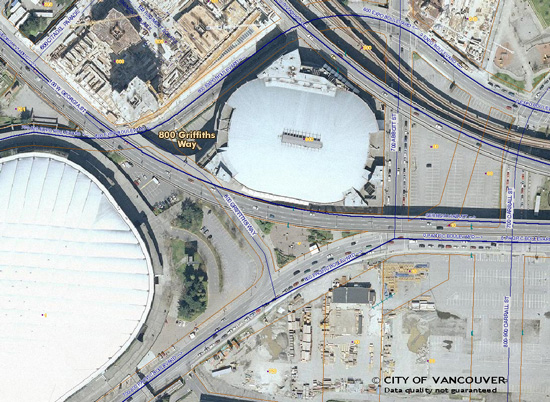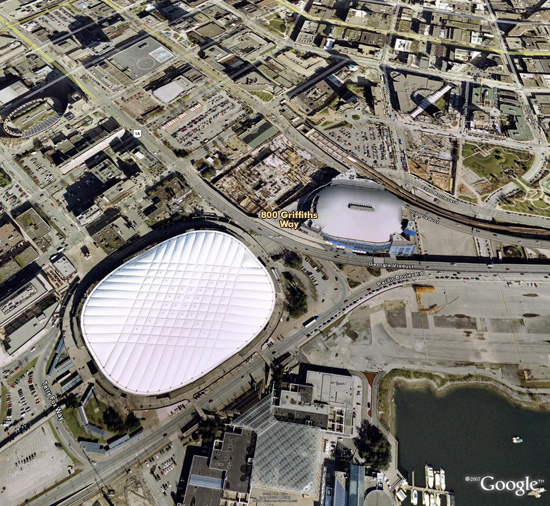 Top
Aquilini Group's GM Place Tower at 800 Griffiths back on the books Construction could be first major downtown office project in almost a decade

Derrick Penner
Sun
Thursday, March, 18, 2010

Vancouver's Aquilini Group has put its 22-storey GM Place Tower project back on the drawing board, with plans to start construction this year on what could be downtown Vancouver's first major office building in almost a decade.

David Negrin, president of Aquilini's development and construction firm, said Wednesday the company had tenants lined up for the building and that he was in final discussions with the city to obtain a development permit for the 230,000-square-foot tower, which would rise over the General Motors Place hockey arena on Georgia Street.

Negrin said the building will have three over-height levels of retail space from Expo Boulevard to the height of the Georgia Viaduct, where the office building's main lobby would be, then at least another 19 storeys of offices.

The company hopes to add a few storeys to the tower as it is developed. Negrin said adding some height to the building would still fit within the city's height restrictions for view corridors.

Negrin said he expects the development to include new restaurants and other entertainment options as well as incorporate a few private stadium boxes that open into GM Place.

"Right now we have two large, well-known companies that are interested in taking space," he said in an interview.

Negrin declined to name the firms, but said that with major tenants willing to lease a significant amount of space, "we're ready to move."

Moving on the tower's construction would represent a shift from Vancouver's pre-recession office development market, which saw developers consider and then shelve projects on expensive downtown sites while building large amounts of new office space on cheaper suburban land along the Broadway corridor and in Burnaby.

The Bentall 5 building at Burrard and Dunsmuir, which was completed in two phases between 2002 and 2007, was the last major purpose-built office tower downtown.

The Aquilini Group proposed the GM Place Tower in 2007, but shelved it in 2008, at the same time that Bentall Capital was proposing to build 25-storey tower for the British Columbia Investment Management Corp. at Alberni and Thurlow.

Bentall is also seeking a development permit for its project, which is scheduled to go before the City of Vancouver's development permit board May 17.

The recovery of downtown's office-leasing market is likely giving developers the incentive to put their projects back on the books, according to Nicholas Westlake, a senior research analyst for commercial realtor CB Richard Ellis.

"Certainly the market indicates we are going that direction in terms of needing more space," Westlake said.

Downtown's notoriously tight office vacancy rate eased somewhat during the recession, rising to 5.8 per cent at the end of 2009. But Westlake said more tenants are back in the market looking for downtown space.

"I think there is going to be demand out there [for new space], and we'll start to see pre-recession levels regarding vacancy come 2011."

The Aquilini Group shelved the project in 2008 because it couldn't find tenants willing to pay rents that would justify building it.

Negrin said potential tenants started looking at the tower differently after the city completed its official community plan for Northeast False Creek in 2009.

"Two years ago, we couldn't get anybody interested in it," Negrin said.

"It's not triple-A [quality], it's not going to get you $45 per square foot [in rent]," Negrin said. "But there's definitely interest."

However, the company has seen "unbelievable interest in the tower over the past six months."

"I'm hoping to start construction in September and we're working with all our sub-trades right now," Negrin said.

The British Columbia Pavilion Corporation (PavCo), meanwhile, is poised to announce another major commercial development nearby by the southwest corner of BC Place Stadium.

PavCo chairman David Podmore said in February the Crown corporation was in the final stages of negotiating an agreement that would see a tenant lease rights to develop 700,000 square feet of development space to help finance BC Place's $563-million roof replacement project.

© Copyright (c) The Vancouver Sun