777 Pacific Boulevard
,
Vancouver
, BC,
Levels:

0

Suites:

0

Status:

N/A

Built:

N/A


Map:

Concierge:

N/A

On Site Manager:

N/A

Type:

Freehold


Bldg #:

906
BC Place Stadium News Articles
PRINT VIEW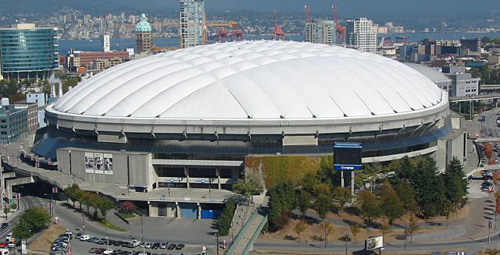 BC Place Stadium
Strata Company:

N/A

Concierge:

N/A

On Site Manager:

N/A

Developer:

N/A

Architect:

N/A
Google Map
Bing Map
Google Street View
View Larger Map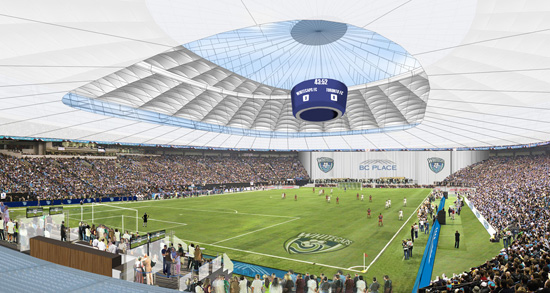 General Inquiries
604.669.2300 (Tel)
604.661.3412 (Fax)


[email protected]

Lost & Found
604.661.7303 (Tel)
Guest Relations
604.661.3410 (Tel)
BC Lions
604.661.3626 (Tel)
B.C.Place Stadium
777 Pacific Blvd.
Vancouver, B.C.
Canada, V6B 4Y8
BC Place Website
GM Place Tickets

BC Place & GM Place Looking West


BC Place on False Creek Looking West


View Over BC Place Dome & City Gate


View West Of BC Place From CityGate


False Creek/Science World/BC Place


False Creek & BC Place


GM Place Next to BC Place


Northwest showing BC & GM Place


BC Place Stadium & Proposed Building
Between Nelson & Smithe By Cambie Bridge


Proposed Development Site East of Canbie Bridge & BC Place Stadium


BC Place Stadium, Cooper's Park,
CityGate & Science World


GM Place, BC Place Stadium & Spectrum Under Construction


GM Place, BC Place & False Creek


BC Place Stadium & Proposed Building
Between Nelson & Smithe By Cambie Bridge


BC Place Stadium & Proposed Building
Between Nelson & Smithe By Cambie Bridge


183 Keefer Southwest View & Spectrum
Under Construction


BC Place & Spectrum Under Construction


BC Place & Future Park To The East

Deal to pay for new BC Place roof 'imminent,' PavCo chairman says
Sale of nearby land's development rights needed to repay loan for renovations
Derrick Pener
Sun
Wednesday, January, 20, 2010
A deal to sell off development rights to land on the west side of BC Place Stadium, which will help pay for the building's $458-million new roof, is "imminent," according to BC Pavilion Corp. (PavCo) chairman David Podmore.
The deal, which will comprise 700,000 square feet of the 1.4 million square feet of development space the pavilion corporation has available to it, would be on a 75-year lease and will likely see both residential and commercial development on the site.
PavCo, the Crown corporation that operates BC Place and the Vancouver Convention and Exhibition Centre, is in the midst of a $565-million total refurbishment of the 26-1/2-year-old stadium, which includes $55 million in interior improvements ahead of the opening ceremony for the 2010 Winter Olympics in addition to the new retractable roof.
That cost does not include the $14 million PavCo will spend on a temporary stadium to be located on the site of the old Empire Stadium on Hastings Street near the PNE.
The provincial government will finance the $458-million roof project with a 40-year loan, and Podmore said the sale of development rights around the stadium is key to PavCo's business case for the project, which is designed to extend BC Place's life up to another 50 years.
"The business case [for the roof replacement] relies on selling those development rights, selling naming rights for the building, sponsorship, advertising and increased activity in the building," Podmore told a lunch-hour Vancouver Board of Trade event Tuesday.
Podmore said he couldn't divulge any further details, but said he is "absolutely satisfied we will repay that loan."
The new retractable roof, which Podmore said should make the building more comfortable to use during the summer, is expected to add about 40 additional days of events per year in BC Place, which is already used 200 to 210 days per year.
Construction is expected to start immediately after the Olympics and Paralympics, and will be complete by July 2011 in time for the Vancouver Whitecaps' inaugural Major League Soccer season.
BC Place was originally completed in 1983 at a cost of $126 million and, up until Podmore took over as chairman of PavCo in 2007, the stadium was on a path toward demolition.
However, Podmore, who Premier Gordon Campbell brought in to take control of the famously over-budget Vancouver Convention Centre expansion, said he was able to make a business case to refurbish BC Place instead.
Podmore said BC Place is home now to events that could not be relocated to the Vancouver Convention Centre, and argued that a replacement stadium of a similar size could run in the $1-billion range.
As for the sprucing up of BC Place for the opening ceremony of the 2010 Winter Olympics, Podmore confirmed that the building suffered a few minor leaks during last week's heavy rains that have since been rectified, but stayed mostly mum about other preparations for the Games.
He refused to talk about how organizers planned to cover the dirty ceiling liner of the stadium's roof, which is a dingy grey from the vehicle exhaust from years worth of monster truck events.
Podmore also did not want to talk about how Olympics organizers will accommodate the Olympic flame's cauldron.
"I cannot comment about the opening ceremonies," Podmore said after his presentation, adding: "I'd have to shoot myself if I told you anything."
© Copyright (c) The Vancouver Sun
BC Place Re-design of roof for soccer wins praise by Vancouver Whitecaps
Whitecaps president Bob Lenarduzzi 'blown away' with rendering, hopes Major League Soccer agrees
Ian Walker
Sun Friday, November, 07, 2008
It has history on its side. Ownership is solid. And its club structure stands alone among its rivals in terms of developing players and growing the game.
That said, the one big knock against the Vancouver Whitecaps' bid to bring Major League Soccer to the city has been the lack of a sport-specific stadium. It was a valid critique -- the key word being was.
On Thursday, the Whitecaps and BC Pavilion Corporation made public a snapshot of how BC Place Stadium -- with its proposed new retractable roof -- might be configured in order to best accommodate soccer events.
"I trust this will put to rest any of those concerns," said Whitecaps president and general manager Bob Lenarduzzi.
"I would question anybody to suggest it's not a great venue. The way it's portrayed in the rendering, it's a soccer-specific stadium."
Key features of the rendering include a retractable roof and centrally hung, state-of-the-art electronic scoreboard, floor-level seats and a flexible draping system. The upper deck draping looks to seamlessly limit the capacity of the stadium to approximately 22,000 seats from BC Place's maximum of 59,000. Additional planned soccer-specific renovations include modular floor-level hospitality areas and a new synthetic FIFA-approved pitch.
The rendering was part of Vancouver's MLS bid book, which was submitted on Oct. 15.
"With the draping, the way it's been done -- to allow for the view to the middle out to the clear blue sky and the intimacy that provides to the lower bowl, the reconfiguration of the seats so they are closer to the sidelines and behind both ends with the VIP area and the South Siders supporters section -- it's as good as any venue in the league right now," said Lenarduzzi. "I've had the benefit of seeing the renderings for two or three months and when I saw them I was blown away. I expect others will feel the same way."
The Whitecaps -- who currently play in the second-tier United Soccer Leagues First Division, where they won its championship this past season -- were one of seven groups to apply to MLS for an expansion franchise, starting play in the 2011 season.
Montreal and Ottawa also submitted bids, with the hope of joining Toronto FC in North American soccer's premier league.
Launched in 1996, MLS has grown from a modest eight-team league that garnered little attention from the sports media to a 14-team operation in 2008 which features one of the most famous athletes on the planet, David Beckham. Seattle will join the league next season, followed by Philadelphia in 2010.
The league is expected to make its decision on the latest round of expansion sometime in the first quarter of 2009.
Earlier this year, the province announced details of a two-phase renovation plan for BC Place. Phase 1 is now under way, and will be completed before the 2010 Olympics.
The $65-million renovation plan for Phase 1 includes improved access for the disabled and the redevelopment of all common spaces, concessions, washrooms, exterior plazas, media facilities, dressing rooms and general public areas.
The rendering involves Phase 2 of the plan, which is scheduled to be completed in time for the start of the 2011 MLS season.
Lenarduzzi added no other stadiums in MLS at this time have a retractable roof or centrally hung scoreboard system.
"We're confident that it eliminates any concern of a venue here in Vancouver."
© The Vancouver Sun 2008