Penthouse 1
Cancun, Mx.
For Sale
$1,390,000 USD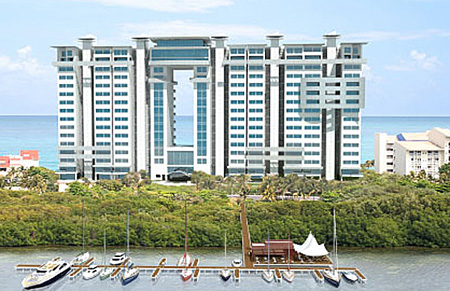 Lahia "Ocean Laguna Residences & Spa Sea. is a full
ownership residential condominium complex with a tourism
quality and services.

• 140 m of Caribbean beachfront
• 116 apartments in five towers
• 10 exclusive tow-levels penthouses
• 8 specious two-level villas
• Built on 11,229 m2 of land (slightly over I ha)
• Access to Nichupte Lagoon through an exclusive marina.
• Common areas that include:
• Gardens and lawns.
• Children's games
• Tennis courts
• Swimming pool with toboggan and sundecks
• Private streets
• Palapa Bar
• Outdoors reception area
• Spa
• Sky room
• 232 parking slots
• Security controlled access
The name of the Penthouse is Acapulco. It is located on the very top 2 floors.
The investment was $1,390,000 USD. We are open to offers.
Suite Info:
430.15 square meters.
3 bedrooms with full bathrooms.
Living room<
Dinning room
Kitchen
Family room
Studio.
3 terraces. 2 in the east side and one with jacuzzi in the west side
Ocean front on the east and Nichupte lagoon view as well on the west. (water view from every window in the pent House)
Storage room
1 service room with full bath room
Use of 2 parking spots
Infinity pool
The building has a sky gym and spa with all the facilities at the same level of the Penthouse.
Monthly maintenance fees of $18,958.04 MEX pesos ($1,460 CAD aprox.)
Tax payments for 2011 was $11,379.24 MEX pesos ($915 USD aprox.)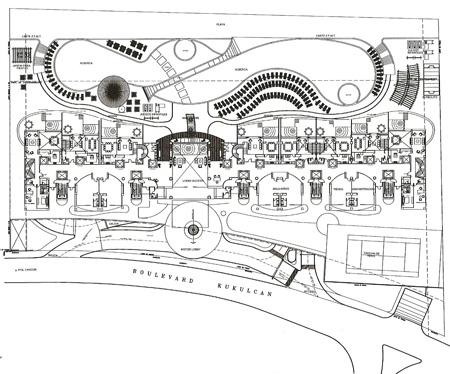 General Plan of Lahia
Click Here To Print Plan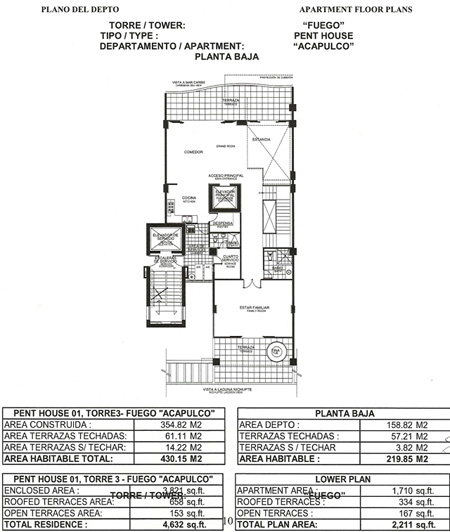 Lower Level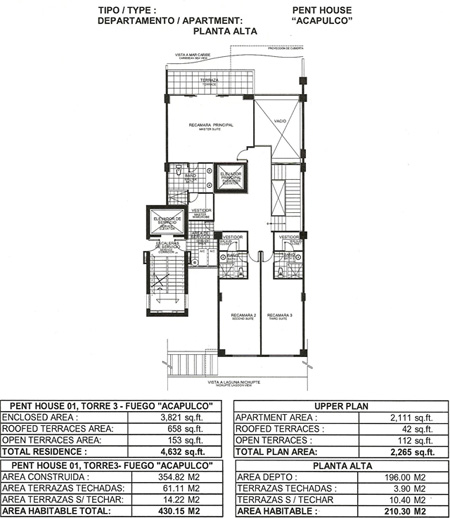 Upper Level
Click Here To Print Building Pictures - 6 Per Page

Great Room


Bath


Great Room


Deck


Bathroom


Hall


Entrance & 2nd Floor


Kitchen &
Dining Room


Den


Stairs


Deck


Living Room


Bath


2nd Floor


Lobby


Exercise Room


Family Room


Studio


Kitchen


Living Room


Dining Room


Living Room


Infinity Pool


Car Turnaround


Beach


Spa


Lobby


View
From Penthouse

For More Information Contact Les Twarog
1428 W 7th Avenue Vancouver, BC
V6H 1C1, CANADA
604-671-7000 (Office)
604-688-8000 (Fax)
Email: [email protected]
Disclaimer
E/O - The enclosed information, while deemed to be correct, is not guaranteed. All information including floor plans, floor plates, strata plans, maps & suite numbers are gathered from many different sources and are deemed to be accurate as possible but not guaranteed. The Webmaster and Les Twarog are not held liable for any errors or omissions in this info sheet. The reader of this material to verify the accuracy of the content.
Web site designed and maintained by Three Sisters Web Studio