999 Canada Place
,
Vancouver
, BC,
Levels:

0

Suites:

0

Status:

N/A

Built:

N/A


Map:

Concierge:

N/A

On Site Manager:

N/A

Type:

Freehold


Bldg #:

900
Convention Centre News Articles
PRINT VIEW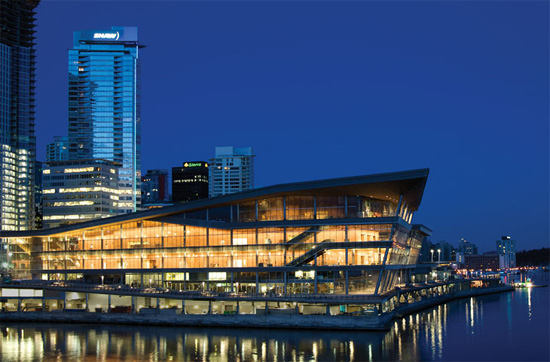 Vancouver Convention Centre
Strata Company:

N/A

Concierge:

N/A

On Site Manager:

N/A

Developer:

N/A

Architect:

N/A
Google Map
Bing Map
Google Street View
View Larger Map
Camcentral.net - Shaw Tower and Convention Centre Camera

Convention Center Construction News Articles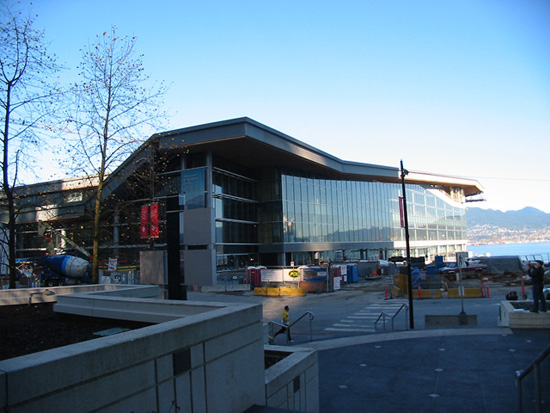 The award winning Vancouver Convention Centre is recognized as one of the leading convention centre's in the world. The facility attracts 300+ events annually and in April 2009, the Vancouver Convention Centre opened the West facility to great acclaim. The roof of the West facility is a 6 acre "living roof" that recover rainwater for irrigation and is home to thousands of indigenous plants.
The Vancouver Convention Centre West Facility is west of Canada Place and the Vancouver Convention Centre East Facility is inside Canada Place. The Vanouver Convention Centre is operated by BC PavCo and the Province of British Columbia.
Function & Meeting Space Overview
Function Space

West Building
(Expansion)

East Building

Combined Facility

Exhibit Space

220,500 ft²
20,485 m²
91,000 ft²
8,500 m²
311,500 ft²
28,940 m²

Meeting Space

60,000 ft²
5,600 m²
25,000 ft²
2,300 m²
85,000 ft²
7,900 m²
# of Meeting
Rooms

52

20

72

Signature
Ballroom Space
53,000 ft²
4,920 m²
17,000 ft²
1,600 m²
70,000 ft²
6,500 m²

Total

333,500 ft²
30,980 m²
133,000 ft²
12,400 m²
466,500 ft²
43,340 m²

For More Information Go To Vancouver Convention Centre's Official Website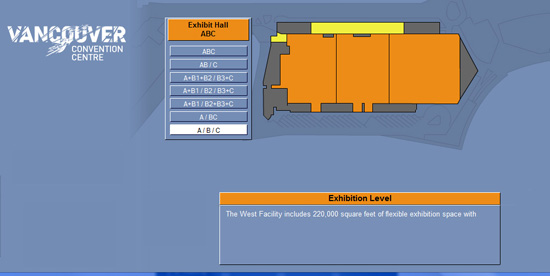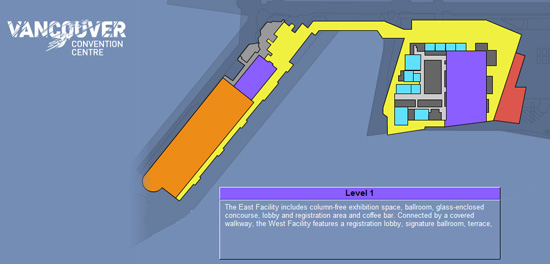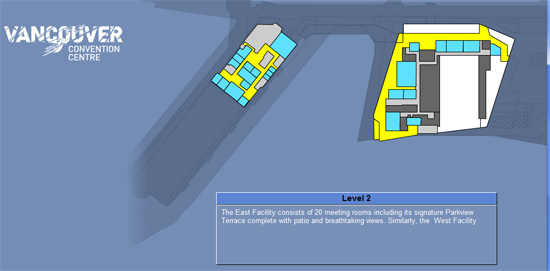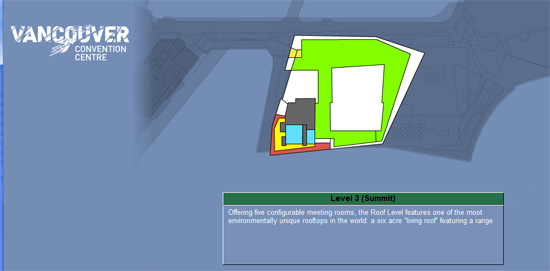 Click Here For Floor Plans Of Vancouver Convention Centre West Building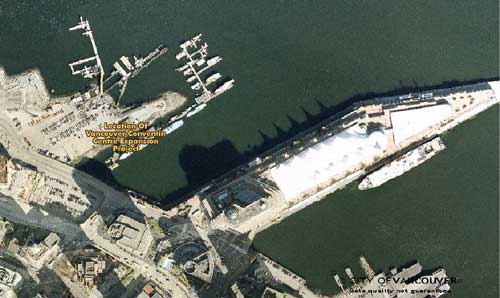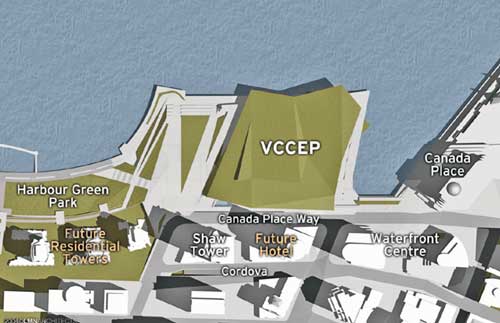 Vancouver Convention Centre


Vancouver Convention Centre


Vancouver Convention Centre


Vancouver Convention Centre


Vancouver Convention Centre


Vancouver Convention Centre


Vancouver Convention Centre Green Roof


Vancouver Convention Centre


New Convention Centre


Vancouver Convention Centre


Convention Centre
Under Construction
To Left


2 Harbour Green Park
& Convention Centre Under Construction


Vancouver Convention Centre Construction
Site Ground Level


Vancouver Convention Centre Construction
Site Ground Level


Vancouver Convention Centre Construction
Site Ground Level


Vancouver Convention Centre Construction
Site Ground Level


Convention Centre
Under Construction


2 Harbour Green Park
& Convention Centre Under Construction


Convention Centre
Under Construction
Picture taken November 2008


Convention Centre
Under Construction
Picture taken November 2008


Convention Centre
Under Construction
Picture taken November 2008


Convention Centre
Under Construction
Picture taken November 2008


Convention Centre
Under Construction
Picture taken November 2008


Convention Centre
Under Construction
Picture taken November 2008


Convention Centre
Under Construction
Picture taken November 2008


Convention Centre
Under Construction
Picture taken November 2008


Convention Centre
Under Construction
Picture taken November 2008


Convention Centre
Under Construction
Picture taken November 2008