450 E. 11th Ave
,
Vancouver
, BC,
V5T 2E1
Levels:

3

Suites:

32

Status:

Completed

Built:

2009


Map:

Concierge:

N/A

On Site Manager:

N/A

Type:

Freehold


Bldg #:

94
The Block News Articles
PRINT VIEW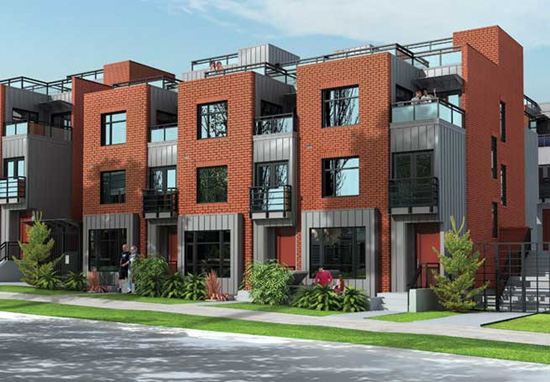 Ideally located at East 12th Ave and Guelph, just steps from the funky cafes and designer boutiques of Main Street, The Block will feature contemporary 2 bedroom plus den and 3 bedroom homes thoughtfully designed for today's active lifestyles.
Sales office # 604-875-8800, "32 URBAN TOWNHOMES in South Main, spacious 2 + Den & 3 Bedrooms, Developer "Parklane Homes"
Strata Company:

N/A

Concierge:

N/A

On Site Manager:

N/A

Developer:

Parklane Homes 604-648-1800

Architect:

Stuart Howard Architects Inc. (604) 688-5585
Google Map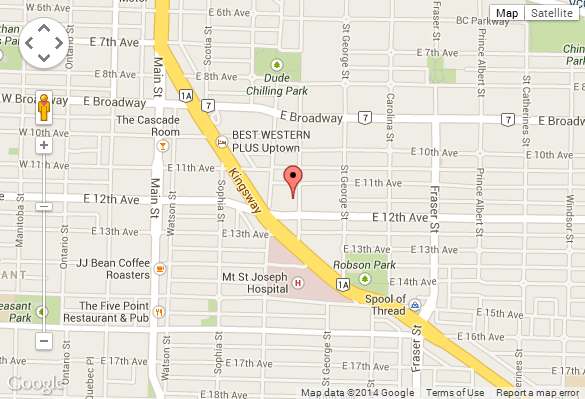 Please click the image above to view full map. This will open in a new window.
Bing Map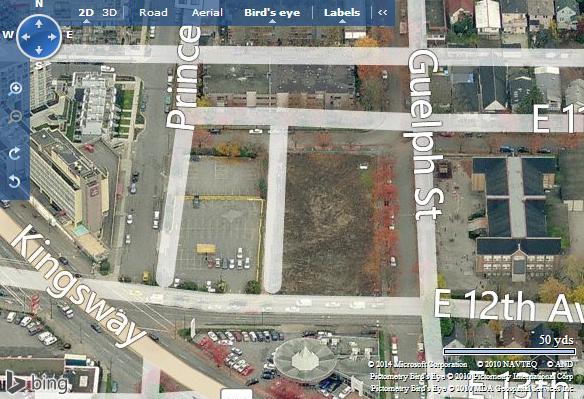 Please click the image above to view full map. This will open in a new window.
Google Street View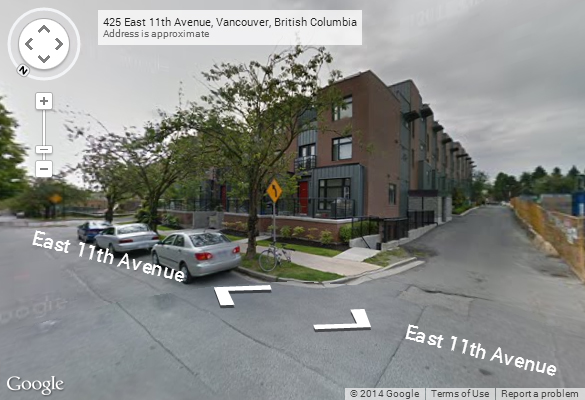 Please click the image above to view full map. This will open in a new window.

The Block - 2700 Block Guelph Ave across Nightingale elementary school, 32 Townhomes (Nine on Guelph St, Four front E11th & balance face a courtyard) 2 bed + Den & 3 Bed + Den 1,193 sf - 2101 sf, Sales Centre at 458 E 11th, 604-875-8800 - sales manager Jenny Wun, email; [email protected] or website; www.lifeontheblock.ca Developer; Parklane Homes (Biltmore) Ltd - 604-648-1800 or www.parklane.com , Architect; Stuart Howard - 604-688-5585 or www.stuarthoward.com , Interior Design; Christina Oberti - 604-697-0363 or www.cointeriordesign.com Tentative Occupancy Fall 2009.


The Block Under Construction
Picture taken August 2008
 

The Block Under Construction
Picture taken August 2008
 

The Block Under Construction
Picture taken August 2008
 

The Block Under Construction
Picture taken August 2008
 

The Block
 

Show Suite Dining / Living Room
 

Show Suite Kitchen
 

The Patio at Night
 

Show Suite Kitchen
 

Show Suite Flex Area
 

Patio
 

Master Bedroom Walk-in Closet
 

Deck
 

Master Bedroom Bathroom
 

Architecture
Ground-oriented townhomes designed by Stuart Howard Architects
Heritage-style brick facade
Rainscreen wall system
Individual mailbox and civic address
Direct access to home from parkade
Over-height basement storage
Individual hot water tank in every home

Outdoor Spaces
Private Patios
Community courtyard
Juliette balcony with French doors off sencond-floor flex space
Sundeck off third-floor master bedroom
Private roof deck

Interiors
Interiors designed by Cristina Oberti Interior Design
Over-height entrance with nine-foot ceilings on main floor
2" blinds on all windows
Large walk-in closet in master bedroom
Stacked washer and dryer
Pre-wiritng for security alarm system

 

Kitchen
KitchenAid stainless steel appliances
Gas cooktop range and convection oven
Flat-panel cabinets
Granite countertops with ceramic tile backsplash
Under-cabinet lighting
Built-in vertical wine rack
Peninsula counter island with bar-height seating

Baths
Master baths with dual vanity sinks
Granite countertops
Porcelain floors and wall tiles
Undermount sink
Five-foot soaker bathtub

Additional Features
Option to purchase an extra parking stall
Secure, dry bicycle storage
Key-fob access to parkade and private community courtyard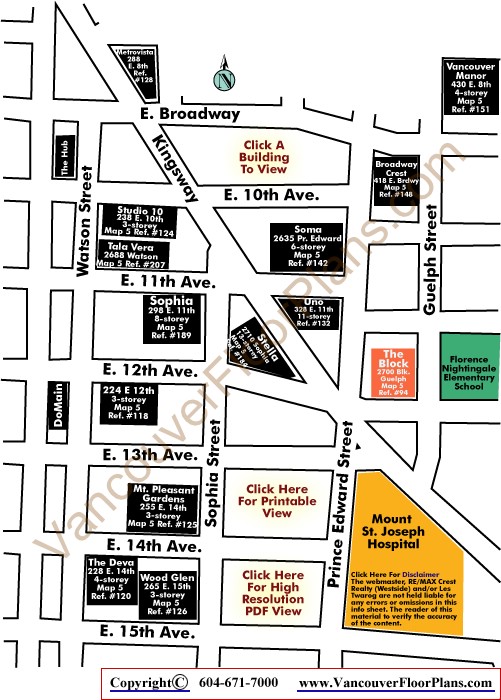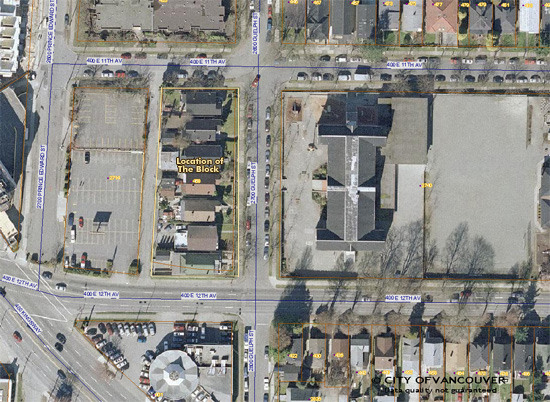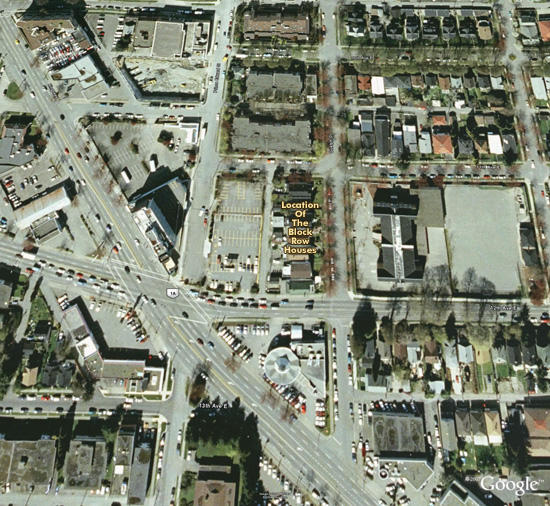 Block's metal, brick cladding an architectural salute to the original industrial purpose of Mount Pleasant
Pleasantly in Mount Pleasant
Michael sasges
Sun
Saturday, May, 09, 2009
Afelicitous response by developer and architect to The Block's location makes this townhouse development an exemplary addition to the Vancouver residency opportunity.
The Block's exterior metal cladding and brickwork broadcast location in an original Vancouver neighbourhood, Mount Pleasant, with a history as much industrial as residential.
The decks on the townhouses's roofs broadcast higher-ground location. (The 50-metre elevation runs through the property.) The views of the downtown high-rises, commercial and residential, and the North Shore mountains will lure Block households to their roofs in all months in good weather and keep them there in a glorious July or August.
"Where in the city can a woman put on a bikini and lay out on a chaise lounge without people staring at her? I'd be up there all summer,'' says Cristy Edmonds, the general sales manager at ParkLane Homes, an observation she shared in answering a question, tell Vancouver Sun readers your favourite feature in the townhouses.
The organizer of the Block sales and marketing campaign, ParkLane marketing manager Krista Shirreff, advances as her favourite a feature three floors below the decks, the private, secured passage between 25 of the 32 townhouses and the common parking garage.
''Lugging your groceries into an elevator and down a hallway is not the best of times,'' says Shirreff, an apartment resident herself. '' Here it's almost like you have your own little single family home. You can drive in, you're safe and secure in your own parkade and, boom, you're right upstairs in your own kitchen unloading your groceries.''
Every household will have its own front door, either on the street, Guelph Street or East 11th, or the courtyard that is a common feature of newer Vancouver townhouse developments.
Nineteen of the townhouses front on the courtyard and, therefore, face each other.
Nine of the townhouses front on Guelph Street and, across the street, the almost-100-year-old Nightingale elementary school.
Four of the townhouses front on East 11th.
Not only righteous possession of site makes The Block worth seeing.
Possession of a novel quality makes it worth knowing about: it is the first newhome project in Vancouver in ParkLane's history – more than 5,500 homes, and more than 250 provincial and national awards, in almost 30 years.
ParkLane is firstly and primarily a suburban tract-home developer. More than that, it develops whole neighbourhoods of which Heritage Woods in Port Moody is the leading example. Westcoast Homes reporters were probably visiting the new-home community twice a year a few years back.
The Block, therefore, is a small project for ParkLane. But it's an important, maybe critical, undertaking on the cusp of the company's fourth decade.
In that decade it will turn almost 130 acres in Vancouver's southeast corner into a multi-residence neighbourhood called, by all involved, East Fraserlands.
''I think definitely moving into the multi-family business is something ParkLane wanted to do from a corporate perspective before we moved on to the Fraser lands,'' Krista Shirreff says. ''It's something very different.''
ParkLane has not yet opened the Block sales centre and show home to the general public, Shirreff advises. To visit either, contact sales manager Jenny Wun at the telephone number or email address published in the information box at the start of the story.
 
Top