900 Expo Boulevard
,
Vancouver
, BC,
Levels:

0

Suites:

0

Status:

N/A

Built:

N/A


Map:

Concierge:

N/A

On Site Manager:

N/A

Type:

Under Construction


Bldg #:

160
Approved Casino Development News Articles
PRINT VIEW

The site has to be re-zoned for the development and the application hasn't been made yet as of April 2010. They are expecting the application to come in May 2010 and then a Public Hearing in the Fall 2010. The proposed development will include 3 towers with an amended Mass/ Height that was proposed in 2008. The City is in favor of having this type of development on this site because of the noise levels from the bridge and the stadium they think it will work well for this site. Also, BC Stadium will also be upgraded with an Open Concept Roof that will also add noise to the area. The overall height and images of the site will be similar to the recent article published in the Vancouver Sun although that article featured two tower instead of three. Click on the side bar "News Articles" for more info. A useful site that has updated information of this site you can check out:
www.vancouver.ca/nefc.
For more info call 604-871-6013.
Strata Company:

N/A

Concierge:

N/A

On Site Manager:

N/A

Developer:

N/A

Architect:

N/A
Google Map
Bing Map
49.27530809228438,-123.11510016888216
Google Street View
View Larger Map
Proposed Development Site East of Cambie Bridge
Buildings 165 & 166 have been approved for Spring 2008 for 2 residential Towers consisting of approximately 500 units.
Building 163 & 164 are currently in negotiation. The city wants 2 commercial towers, Concord wants 2 residential towers. A desission is to come by Sprint 2008
Proposed 4 BC Place towers will be located on the 4 corners of BC Place. Read Info Below.
Vancouver City Council has agreed to fast-track a ruling on what can be built on the parking lots around B.C. Place -- information the stadium says it needs to plan the budget for fixing the stadium's domed roof.
PavCo, the Crown corporation that manages the False Creek facility, says it wants to keep the stadium open for at least another 30 years.
It also wants to know how much of the land can be built on, which would help it estimate how much it can make from developers of towers on the land -- money that would help foot the bill for refurbishing the 25-year-old stadium.
The towers are expected to contain a mix of residential and commercial space.
The request posed a dilemma for the city, which already has a planning process under way for the area around the stadium.
Yesterday, council agreed to make up its mind about the stadium land, moving the issue four months ahead of a decision that was to have been made in October.
Three other major developers interested in building on properties in the area will have to wait for a decision on their properties' potential.
PavCo chief David Podmore told council an early decision would help him present a detailed budget to the provincial cabinet on an overall plan to repair the facility, which will host opening and closing ceremonies for the 2010 Olympic Games.
Repairs to the inflatable roof, which ripped open last year, are expected to be done before the Games begin.
Plans call for better concession stands, washrooms and an outdoor plaza, which may host a new home for the B.C. Sports Hall of Fame.
 
        1) Click Here For Printable Version Of Above Map
        2) Click here for Colliers full downtown area map in PDF format (845 KB)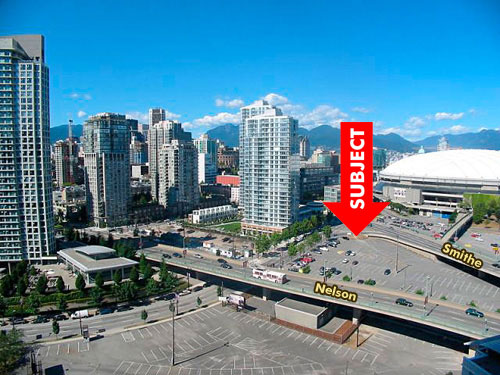 Cooper's Quay Development and Proposed Development Area on Left
Picture Taken November, 2005
 

Proposed Non-Market Housing Site Behind Development
Picture Taken November, 2005
 

Development Site For
Buildings Number 165 & 166
 

Development Site For
Buildings Number 165 & 166
 

Location of Buildings 163 & 164
 

Location of Buildings 163 & 164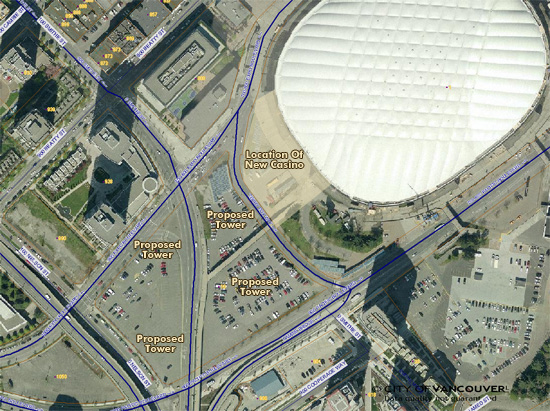 Cooper's Park & Seawall
Picture Taken November, 2005
 

Proposed Development Site
East of Cambie Bridge
 

Proposed Development Site
East of Cambie Bridge
Picture taken August 2006
 

BC Place Stadium
& Proposed Buildings Between
Nelson & Smithe By Cambie Bridge
Picture taken August 2006
 

Casino will be a boon: Campbell
$450-million project will anchor new entertainment hub

Lena Sin
Province
Sunday, March 28th, 2010

Plans for a new destination casino-hotel complex next to B.C. Place Stadium will transform the area into a new entertainment hub for downtown Vancouver, says Premier Gordon Campbell.

The $450-million project will feature two hotels, five restaurants and a 110,000-square-foot, two-storey casino open 24 hours a day.

The complex is part of an ambitious plan to revitalize B.C. Place, slated for a $565-million renovation, of which $458 million is earmarked for a new, retractable roof.

The complex is expected to spark a lively debate among False Creek residents when it comes before the city for rezoning approval.

Campbell said the massive casino and entertainment complex will boost tourism and provide economic spinoffs, adding that revenues will help offset the cost of replacing the roof at B.C. Place.

"What we're doing is creating a whole new entertainment complex for British Columbia," he said.

"And I think what it really does is it will revitalize this part of town. It won't just be a place that you drive around and drive through."

The new 680,000-square-foot centre will sit between the west side of B.C. Place and the Cambie Bridge on a one-hectare parcel of vacant land.

The Edgewater Casino, now located at the Plaza of Nations, will be relocated to the new centre, pending rezoning approval.

Paragon Development of Las Vegas, which owns the Edgewater Casino, is the winner of a private-sector bid to build the complex. It has signed a 70-year lease agreement with B.C. Pavilion Corp. (PavCo), the Crown corporation that runs B.C. Place.

PavCo will receive $6 million a year (plus inflation) in lease revenue for the first 10 years, with the price escalating after the first decade.

The lease revenue will partially offset the cost of replacing B.C. Place's iconic marshmallow roof with a new retractable version.

Campbell said the new centre attached to B.C. Place will create thousands of jobs — an estimated 3,200 direct and 2,220 indirect jobs during construction and another 1,900 direct and 1,300 indirect jobs when the facility opens.

The B.C. government also estimates it will reap $130 million in gaming revenues during the casino's first year of operation.

The project still requires the city of Vancouver to grant rezoning of the site.

But Vancouver Coun. Geoff Meggs told The Province that even though he expects a vigorous debate about the project, it's unlikely the city will block it.

Howard Blank, spokesman for Great Canadian Gaming Corp., which owns River Rock Casino in Richmond, said the company welcomes the competition and has no concerns about its market share.

Construction of the project is expected to begin in early 2011 and completed by mid-2013.

© Copyright (c) The Province