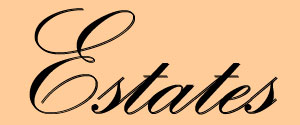 1011 W. Cordova
,
Vancouver
, BC,
V6A 1M8
Levels:

45

Suites:

200

Status:

Completed Mar 26th 2010

Built:

2010


Map:

Concierge:

604-696-9554

On Site Manager:

N/A

Type:

Freehold


Bldg #:

74
Fairmont Pacific Rim Estates & Hotel News Articles
PRINT VIEW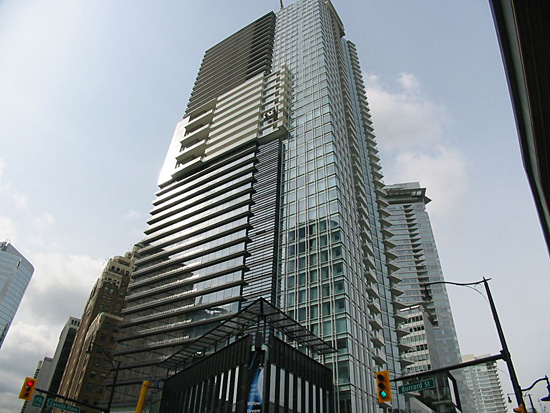 BUILDING WEBSITE Fairmont Estates at 1011 W Cordova Street, Vancouver, BC V6A 1M8, Hotel Floors 1 - 22 - 415 guest rooms and a residential strata portion floors 23 - 45 - 175 residential suites. This website contains: current building MLS listings & MLS sale info, building floor plans & strata plans, pictures of lobby & common area, developer, strata & concierge contact info, interactive 3D & Google location Maps link
www.6717000.com/maps
with downtown intersection virtual tours, downtown listing assignment lists of buildings under construction & aerial/satellite pictures of this building. For more info, click the side bar of this page or use the search feature in the top right hand corner of any page. Building map location; Building #74-Map2, Coal Harbour, Bayshore Area & Part of Westend.
Strata Company:

Dodwell Realty (604-699-5255)

Concierge:

604-696-9554

On Site Manager:

N/A

Developer:

Ian Gillespie of Westbank Projects and Peterson Investment Group 604-685-8986

Architect:

James KM Cheng Architects 604-873-4333
Google Map
Bing Map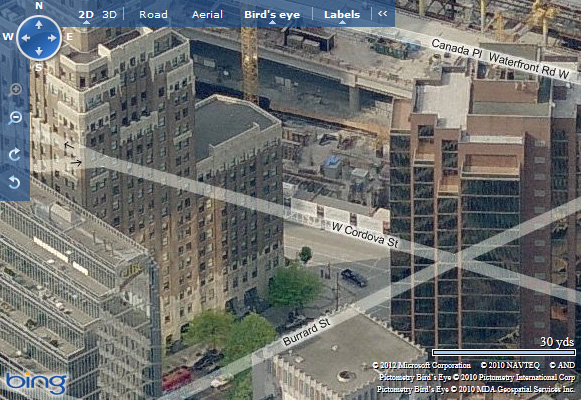 Please click the image above to view full map. This will open in a new window.
Google Street View
View Larger Map
Fairmont Pacific Rim Hotel

1st - 22nd Floor
1038 Canada Place
Concierge Contact: 604-695-5300 (Office)
604-695-5300 (fax)

Fairmont Pacific Rim Estates

(Live / Work Residential Suites) - 23rd - 45th Floor
1011 W. Cordova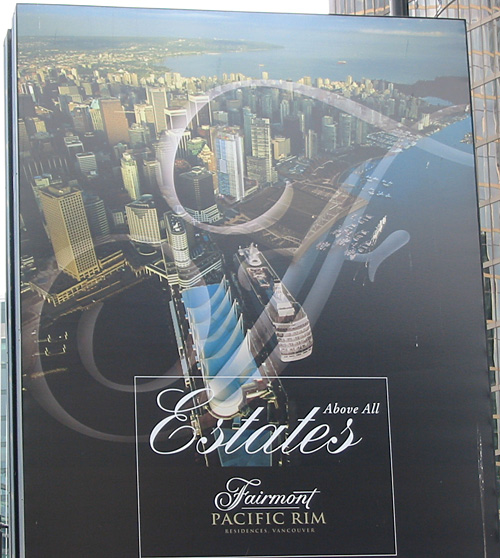 Rendering Compliments The Province Newspaper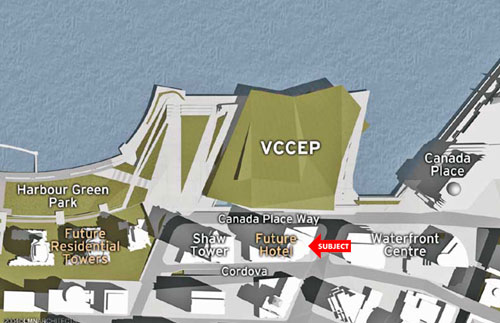 Design
James KM Cheng Architects Inc.
457 feet high
Each facade features a distinctive expression to complement its unique orientation
Double glazed low E clear curtain wall
Control plan heating and seawater cooling
Phillips Farevaag Smallenberg Landscaping
Arrival plaza links with Shaw Tower
Outdoor fireplace
Swimming pool with poolside bar
Private cabanas with gas fire pits
Green roof landscaping
Reinforced concete construction
Centralized air conditioning system
Central steam heating
Standby generators
Fire alarm system

Lobby
Private residence lobby
20-foot ceiling
Guest lounge
Access to Hotel
Centre-opening elevators
Video display in elevators
3 high-speed elevators

Security
24 hour concierge
Electronic access control system
24 hour video recording of building entry points
Video entry system in suites
Restricted floor access in elevators

Technology
Fully integrated cable package
In-suite computer networking

Interiors
James KM Cheng Architects Inc
Leather-bound suite entry doors
Stone threshold at suite entry
Overheight ceilings
Wood flooring in living areas
33" electric fireplace
Window shades
Wool carpet in bedrooms

Kitchen
European cabinets by Boffi
Soft-touch cabinet drawers and doors
Under-cabinet lighting
Granite countertop and full-height backsplash
Stainless steel double sink
Floating kitchen island
Miele appliance package

Bathroom
Streamlined wood vanity
Stone slab countertop for master ensuite
Oversize tile flooring
White cast iron tub
Separate glass shower enclosure
Undercounter basin

Amenities
Doorman and concierge
Heated outdoor pool, hot tub and patio
Fitness centre
Changing facilities
Fairmont's Willow Stream Spa
Multi purpose rooms
Business centre
Multi-media theatre
Limousine service
Optional housekeeping, room service
Valet parking
Secure parking
Secure bicycle storage
Storage lockers




Fairmont Pacific Rim
(Taken March 2010)


Fairmont Pacific Rim
(Taken March 2010)


Hotel Entrance
(Taken March 2010)


Hotel Entrance
(Taken March 2010)


Hotel Lobby
(Taken March 2010)


Hotel Lobby
(Taken March 2010)


Hotel Lounge
(Taken March 2010)


Hotel Lounge
(Taken March 2010)


Canada Place Way
& Burrard
(Taken March 2010)


Residential Entrance
(Taken March 2010)


Residential Lobby
(Taken March 2010)


Residential Lobby
(Taken March 2010)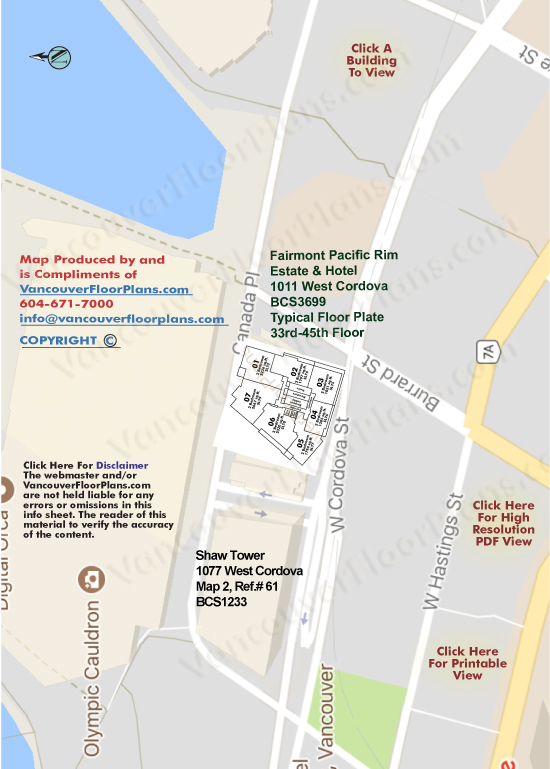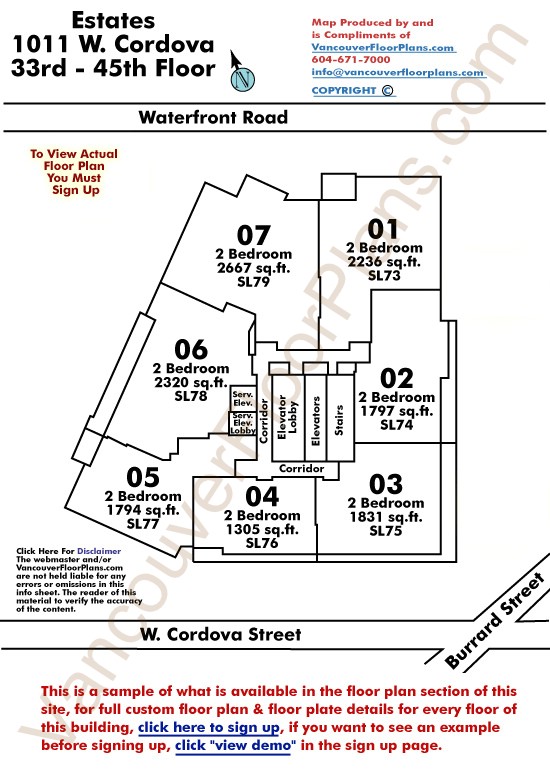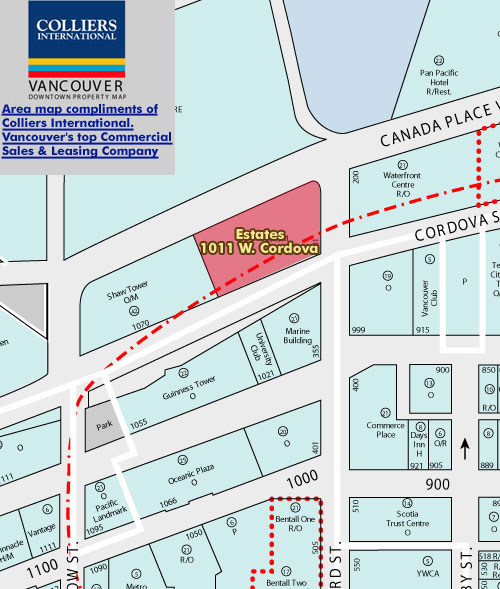 1) Click Here For Printable Version Of Above Map
2) Click here for Colliers full downtown area map in PDF format (845 KB)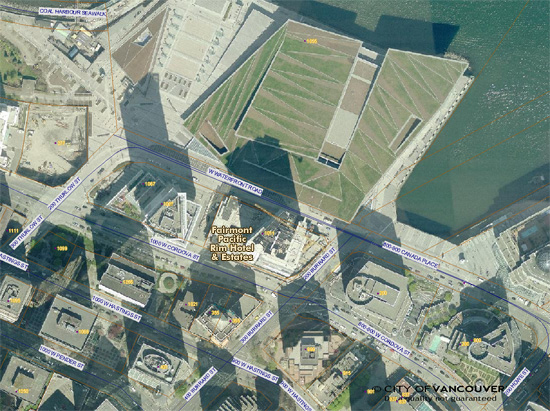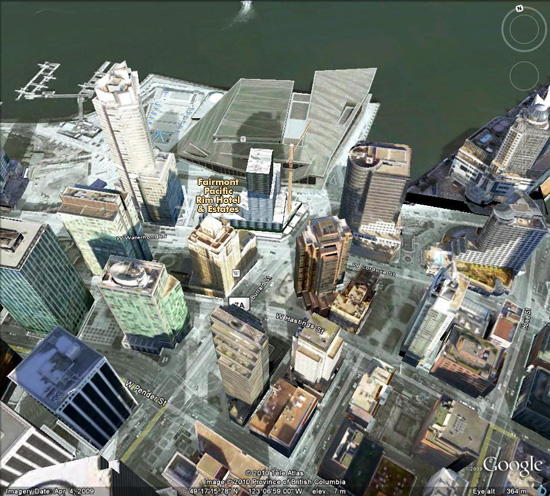 Fairmont Pacific Rim
(Taken March 2010)


Fairmont Pacific Rim
(Taken March 2010)


Residential Entrance
(Taken March 2010)


Looking Up
(Taken March 2010)


Cordova Side
Of Faimont
(Taken March 2010)


Fairmont Pacific Rim
(Taken March 2010)


Glass Awning At Entrance
(Taken March 2010)


Fairmont Hotel
Entrance
(Taken March 2010)


Hotel Entrance
(Taken March 2010)


Hotel Entrance
(Taken March 2010)


Hotel Entrance
(Taken March 2010)


Water Feature
At Entrance
(Taken March 2010)


Hotel Entrance
& Facilities
(Taken March 2010)


Hotel Entrance
& Valet
(Taken March 2010)


Canada Place Side
of Building
(Taken March 2010)


Canada Place Side
of Building
(Taken March 2010)


Canada Place Side
of Building
(Taken March 2010)


Canada Place Way
& Burrard
(Taken March 2010)


Canada Place Way
& Burrard
(Taken March 2010)


Convention Centre
(Taken March 2010)


Cordova & Burrard
(Taken March 2010)


Cordova & Burrard
(Taken March 2010)


Looking Up
(Taken March 2010)


Looking Down Cordova
(Taken March 2010)


Bottom Of Tower
(Taken March 2010)


Residence Entrance
(Taken March 2010)


Bottom Half
(Taken March 2010)


Residential Tower
(Taken March 2010)


Fairmont Pacific Rim
& Marine Building
(Taken March 2010)


Fairmont Pacific Rim
& Marine Building
(Taken March 2010)


Residential Elevators
(Taken March 2010)


Residential Elevators
(Taken March 2010)


Hotel Elevators
(Taken March 2010)


Residential Lobby
(Taken March 2010)


Residential Lobby
(Taken March 2010)


Residential Lobby
(Taken March 2010)


Residential Lobby
(Taken March 2010)


Hotel Lobby
(Taken March 2010)


Hotel Lobby
(Taken March 2010)


Hotel Lobby
Looking Out
(Taken March 2010)


Hotel Lobby
(Taken March 2010)


Hotel Lobby
Front Desk
(Taken March 2010)


Hotel Lounge
(Taken March 2010)


Hotel Lounge
(Taken March 2010)


Hotel Bar
(Taken March 2010)


Hotel Lounge
(Taken March 2010)


Hotel Lounge
(Taken March 2010)


Hotel Lounge
(Taken March 2010)


Hotel Cafeteria
(Taken March 2010)


Hotel Cafeteria
(Taken March 2010)


Residential Amenity Room
(Taken March 2010)


Residential Amenity Room
(Taken March 2010)


Exercise Room
(Taken March 2010)


Exercise Room
(Taken March 2010)


Exercise Room
(Taken March 2010)


Exercise Room
(Taken March 2010)


Exercise Room
(Taken March 2010)


Exercise Room
(Taken March 2010)


Exercise Room
(Taken March 2010)


Exercise Room
(Taken March 2010)

Top